Do you know what PocketRebates is?
PocketRebates claims to enable you to "earn rebates and coupons," but, unfortunately, it is simply a new clone that follows a line of other useless ad-supported applications that include Job Knows, Weather Do, FamilyGurus, and Leading Videos. This adware may present you with potentially unsafe content. According to our researchers, this is a completely useless application because it simply loads a specific website, which you could easily and freely browse through your reliable browsers. Why would you keep such a redundant program on your system when it may put your system security at risk? We recommend that you remove PocketRebates as soon as possible. You need to know that its presence is most likely a multiple threat source because it indicates that there may be other malware infections also on board. If you do not act now, this malware situation may get out of hand and cause more severe damage to your operating system.
This application has a promotional webpage, PocketRebates.com, which is rather simple. We do not advise you to visit this page if you have not done so already. The reason is twofold. First, this page hosts a couple of potentially unreliable third-party ads. Second, and this is more worrisome, this page is actually blocked by security programs because of posing as a potential threat. Most probably it is flagged because of the installer it hosts, which is filled with a number of infections, including Search Know, System Healer, and Yoursearching.com. Our researchers have discovered that these threats depend on locality and also, time. Installing such a package can seriously raise the system vulnerability. These threats are mainly adware programs, browser hijackers, and potentially unwanted programs. All of these infections may be able to expose you to unreliable web content and serve as a gateway to cyber criminals and their vicious online scams.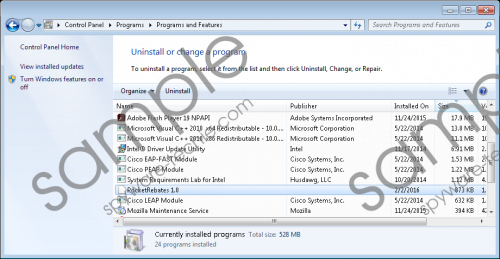 PocketRebates screenshot
Scroll down for full removal instructions
But our researchers have found that this official way is not the only channel through which this adware may appear on your computer. As a matter of fact, it is more likely that you click on some infected or corrupt content and that results in the download of this useless application. This content may be a modified search result displayed by a browser hijacker but it can also be an unsafe third-party advertisement, a pop-up ad shown by either an adware application on your computer or a suspicious website you are visiting. Another possibility is that this adware might come through a freeware bundle downloaded from questionable file-sharing websites. No matter how this annoying application has entered your machine, somehow it is surrounded by other infections. Therefore, we suggest that you scan your system for other malware threats right after you remove PocketRebates.
When you launch this application, it opens its own window with a big logo in the top-left corner, and loads a specific website associated with online shopping or coupons, such as interest6.valuedinformation.com/numbers/?t=5&c1=UAOCD%3A%3A. It may also open an Internet Explorer browser window and load similarly interest6.valuedinformation.com/numbers/?t=5&c1=UAOCD%3A%3A or other related pages. We have found that it may also show download offers and other third-party advertisements. If you click on any content provided by this adware, there is a possibility that you may end up on an unreliable or downright malicious website. If you do not want to experience what may happen when scammed by cyber criminals, we recommend that you delete PocketRebates right now.
The only good thing we can actually mention with regard to this application is certainly that it has a working uninstaller. You can locate it in the installed programs list in Control Panel. This uninstaller seems to leave no mess behind; that is why we advise you to take this road towards destination "Clean System." Obviously, this will not be the last stop since there are most probably a bunch of other threats hiding on your computer. Please follow our instructions below if you need help with uninstalling this adware. However, if you would like to kick back and relax without the fear of being attacked again by malware, we advise you to download and install a trustworthy anti-malware program.
PocketRebates Removal from Windows
Windows 8, Windows 8.1, and Windows 10
Press Win+Q and type in Uninstall a program. Press Enter.
Select the application and click Uninstall.
Windows Vista and Windows 7
Open the Start menu and pick Control Panel.
Click Uninstall a program.
Select the application and click Uninstall.
Windows XP
Press Win+R and type in Control Panel. Hit OK.
Select Add or Remove Programs.
Select the application and click Remove.
In non-techie terms:
PocketRebates is a rather questionable and unreliable application that has proved to be quite useless as well. In fact, our researchers have classified it as an adware program due to its capability to promote websites and display third-party advertisements. The content this adware can introduce you to may however be potentially unreliable. Therefore, any engagement with such content, including advertisements, may be risky. It is also important to mention that this application's official installer can contain a number of malware threats, such as adware programs, browser hijackers, and potentially unwanted programs. This makes it rather suspicious and undesirable on your computer. We advise you to remove PocketRebates right now along with all related infections. If you prefer automated solutions, we recommend that you install a reliable malware removal application to take care of all existing infections and to provide perfect protection for your PC.