Do you know what PMLeads is?
If you are concerned about PMLeads pop-ups, do not leave this page but continue reading to find out how you can get rid of web banners, coupons, in-line advertisements, and other ads. The term PMLeads is quite ambiguous because it refers to a program is also called PufferMind. In general, PufferMind is a service aimed at helping computer users to find solutions to problems related to different devices. The program is advertised at puffermind.com, and the software described on one of the pages is also referred to as PufferMind.
The PMLeads program works as a service and creates no browser extensions. The service is named PMLeadsService.exe, and the program works on the three the most popular Internet browsers – Internet Explorer, Google Chrome, and Mozilla Firefox.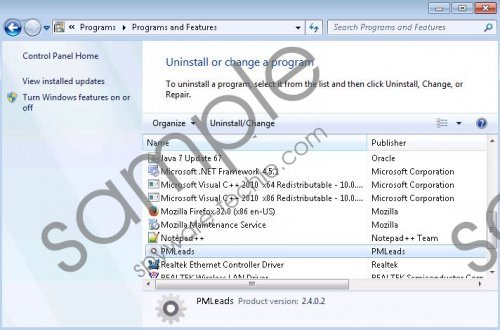 PMLeads screenshot
Scroll down for full removal instructions
PMLeads is programmed to display different types of advertisements, such as pop-ups, pop-unders, in-line advertisements, coupons, and other shopping related information. PMLeads is not liable for the content of the offers displayed on your screen because PMLeads does not endorse third parties and have no control over their activities, which means that you interact with the program at your own risk. The way PMLeads operates is typical of virtually every advertising-supported program, and we recommend that you remove PMLeads from the computer as soon as you can.
If you have ever dealt with an adware program, you probably know that they are capable of monitoring users' online behavior. The PMLeads program collects information which includes, but is not limited to, search terms, IP address, operating system, the use of the adware program, etc. This information may be shared with third parties, which can use the program for various purposes.
By installing the PMLeads program, you acknowledge that the third parties have their privacy policies and terms of use and are not associated with PMLeads. Due to the fact that you cannot know to what type of website you will be taken, you should pay close attention to every website you access. There are many malicious websites aimed at deceiving you, and, if you do not have any prior experience with advertising-supported programs, you may not suspect that you may be deceived at any time.
Our instructions below will help you find the uninstaller of PMLeads, but we recommend that you rely on a reputable security program so that you can prevent Trojan horses, browser hijackers, and other threats. Use SpyHunter if you want to be secure on the Internet, because this program can remove PMLeads with ease and safeguard the system against malware and spyware threats.
How to remove PMLeads
Windows Vista and Windows 7
Open the Start menu.
Click Control Panel.
Select Uninstall a program.
Remove PMLeads.
Windows XP
Click Start.
Select Control Panel.
Click Add or Remove Programs.
Uninstall PMLeads.
Windows 8
Press Win+R and enter control panel.
Click OK.
Select Uninstall a program.
Remove PMLeads.
In non-techie terms:
If you want to be sure that you have fully removed PMLeads, you should install a reputable security program that is capable of identifying the components of PMLeads and other malicious programs. In order to find out the security status of the operating system, implement our recommended scanner, and, if you do not know how to do it, use our instructions given below.