Do you know what PlumoWeb is?
Contrary to the belief of some users thinking that PlumoWeb is a legitimate and reliable browser extension, our security experts can assure you that this application is intrusive and unreliable. The application is commonly identified as an advertisement-supported program because it is partially operated by third parties. As researchers have discovered, these affiliated parties can install tracking cookies to spy on you. What is more, some of these parties may be responsible for the activity of advertising domains that your system will be connected to. If you delete PlumoWeb now, the ties to these domains will be severed, the suspicious, invasive cookies will be removed, and you will not need to face potentially unreliable ads.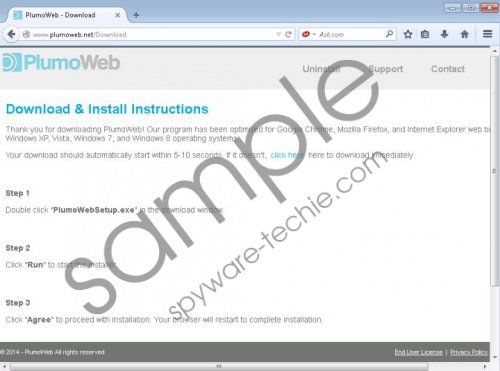 PlumoWeb screenshot
Scroll down for full removal instructions
PlumoWeb has been developed by SuperWeb LLC and, according to our malware analysts, this company has released the recently reviewed Grassmow, BrowsePro, HasBrowse, and similar adware programs. It is recommended that you remove these applications if they have been dropped onto the computer. Computer users do not install these programs on their own because the official installers have been deactivated. The installer on plumoweb.net is inactive as well. Regardless, the program is active, and it can be downloaded onto the system bundled with third-party applications. Do not hesitate to remove PlumoWeb if you believe it has been installed without the permission. Also, review the programs which may have been installed together with adware. If these programs do not have a good reputation, you should remove them right away.
If you choose to delete PlumoWeb using automatic malware removal software, you will not need todeal with tracking cookies, the additionally installed infections, or the protection against other virtual threats. Choose a reliable, multi-functional security tool and it will remove PlumoWeb in no time. If you do not want to invest money in your own security, you need to perform the manual removal. The steps listed below show how you can remove the disturbing application from different Windows systems. Please make sure you inspect the system afterwards just to make sure that you do not leave any threats behind. A reliable malware scanner should be used.
Delete PlumoWeb from Windows
Delete from Windows 8:
Tap the Windows key on the keyboard to access the Metro UI menu.
Right-click on the background to open a pane and select All apps.
Open the Control Panel and in the menu click Uninstall a program.
Right-click the program you want to remove and click Uninstall.
Delete from Windows Vista and Windows 7:
Go to the Taskbar and click the Windows icon to open the Start menu.
Open the Control Panel and in the appeared menu select Uninstall a program.
Right-click the undesirable application and click Uninstall to remove it.
Delete from Windows XP:
Move to the left of the Taskbar and click the Start button for a menu.
Select Control Panel and double-click Add or Remove Programs.
Go to Change or Remove Programs and Remove PlumoWeb.
In non-techie terms:
PlumoWeb is not a threat; however, it is not a beneficial program either. Running this application may be dangerous, and so you should consider its removal. It is possible to delete the program manually; however, we prefer the services of automatic malware removal software. If your operating system is running disorderly after installing the suspicious application, you can use the guides below.