Do you know what PlayThru Player is?
If you want to watch YouTube videos in a floating desktop window without the need of your browser, PlayThru Player might look like a good choice for you. But, if you ask our opinion, we have to say "no way." Our research team has labeled this application as a potentially unwanted program, or PUP. Why? Due to the fact that it showed questionable behavior when tested in our internal lab. Although the player seems to work just fine, it may display potentially dangerous third-party advertisements, not to mention that it may also bring malware infections on-board. If you are a security-minded person, you understand exactly why and how these things may put your system in harm's way. You will also know why we suggest that you remove PlayThru Player from your computer. Nevertheless, if you would like to know more about our reasons and how you can get rid of this PUP, please read our full report.
PlayThru Player is available for download from playthruplayer.com. But it is quite unlikely that a lot of users find this website. That is why the developers of this PUP use freeware bundles to spread their product over the Internet. This is nothing new for them since we have found that these developers are behind the creation of malware, such as Shop with Boost and Blinkx, which are also spread in bundles. The problem you might experience when installing this PUP via a bundle installer is that it may be packed with malware infections. If you are not careful, you may easily end up with a bunch of adware programs, browser hijackers, and more. It is important to be aware of what programs enter your system; however, these infections can sneak in if you skip a crucial step in the installation wizard. In this case, it will not be sufficient to delete PlayThru Player; you will also need to run a full system scan to see if there is any other threat.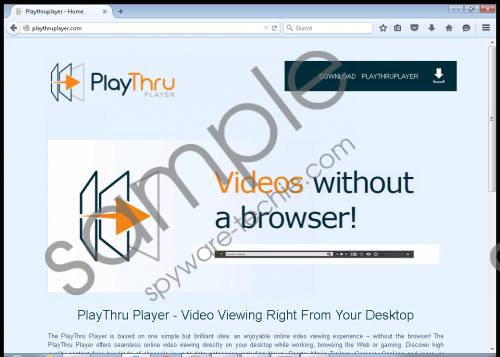 PlayThru Player screenshot
Scroll down for full removal instructions
PlayThru Player starts up with Windows every time you restart your machine. You can activate the player by clicking on its icon on the Windows tray. You can set different transparency levels so that you can look through it and see whatever is underneath the video you are watching. This function may be useful for those who like multitasking. However, the truth is that this PUP might display third-party ads. These are not only annoying but may be harmful as well, especially if you end up on a malicious website by clicking on them. If you want to avoid such encounters, you are better off removing PlayThru Player from your PC.
It is time to say goodbye to PlayThru Player, and, hopefully, that is how you feel as well -- at least, if your virtual security is important to you. Fortunately, there is not much to do if you want to see this PUP go. Practically, you can achieve that with the click of a button in your Control Panel. Please use our guide below the article if you want to get rid of this software manually and are not familiar with the process for uninstalling applications. Please remember that your system might still be under attack from malware infections that may have infiltrated your computer when you installed PlayThru Player. The best way to deal with this situation is to use a reputable antimalware application and automatically fix all problems related to malware threats.
Remove PlayThru Player from Windows
Windows XP
Click on the Start button and select Control Panel.
Access Add or Remove Programs.
Remove the unwanted program.
Windows Vista/Windows 7
Click on the Windows button and go to Control Panel.
Select Uninstall a program.
Uninstall the unwanted program.
Windows/Windows 8.1
Tap Win+X and navigate to Control Panel.
Select Uninstall a program.
Uninstall the unwanted program.
In non-techie terms:
PlayThru Player is a potentially unwanted program due to its questionable behavior that might result in potential system security risks. This application might introduce you to unreliable third-party content through advertisements. Since this player is mainly distributed in software bundles, there is a good chance that malware programs have come on-board with it. Therefore, we advise you to delete PlayThru Player and use a reliable malware removal tool to keep your system protected from similar attacks.