Do you know what PlayPopGames is?
PlayPopGames is a game manager that also works as an advertising-supported program. Although you might have access to more games available at playpopgames.com if you download this program, you are also likely to be bombarded with various pop-ups and banner advertisements. Do you believe that this is a good enough price to pay to be able to play online games? Even though ads might look harmless, your virtual security could be jeopardized if you interact with them. Overall, this adware is not a critically dangerous infection, and it cannot silently download malware, corrupt your virtual accounts, or crash your computer; however, it can open a security backdoor, and that can be the beginning of many different problems. If you wish to evade them, remove PlayPopGames from your computer right now.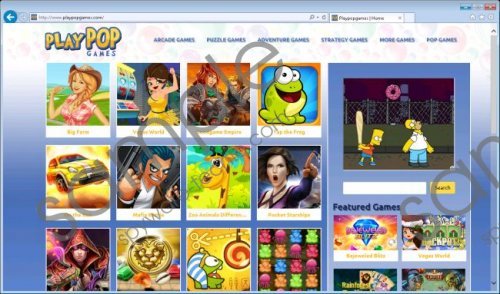 PlayPopGames screenshot
Scroll down for full removal instructions
The publisher of PlayPopGames is named after this advertising-supported program. Although it is possible that this publisher that hides behind this name has no affiliation with other suspicious programs, it is more likely that it can be linked to other similar game managers. We have previously discussed Game Wham, DeepBlue Games, ArcadeRoyal, FantastiGames, and many other supposedly beneficial managers that have also turned out to be unreliable ad-supported programs. We cannot claim that all of these programs were created by the same company, but it is possible that unreliable advertisers are responsible for some of them. The About Us section at playpopgames.com/aboutpop informs that "a fixed number of ads" are shown by this program. Luckily, these ads are identified, and you will know which program they belong to. Have you encountered ads that are not identified? If you have, you should scan your PC to check for other ad-supported programs, and, if they exist, delete them right away.
It is possible that you will download PlayPopGames packaged with other programs. Which programs come bundled with this adware depends on the installer you use, and, if you execute a malicious installer, you might encounter dangerous infections. According to our research, most computer users using this program are located in the United States; however, that does not mean that the installers carrying this adware work only in specific regions. If you are not cautious, various malicious programs could enter your operating system besides PlayPopGames. Of course, if you act cautiously, use reliable installers, research software before installing it, and employ a trusted security tool to help you out, you will evade the attacks of malware. Even if you manage to delete currently active threats manually, you should think about implementing anti-malware software to have your operating system protected full-time.
You can delete PlayPopGames manually, and you do not even need to be experienced to succeed. Are you unfamiliar with some of the actions represented within the guide below? Follow the instructions carefully, and you should be able to perform all steps yourself. Of course, if you feel stuck, you can start a discussion in the comments section below, and we will try to help you as soon as possible. If you cannot wait, utilize an automated malware remover. After all, we recommend implementing anti-malware software, and if you agree with us, you do not need to waste time eliminating unreliable programs one by one, as a reliable anti-malware tool will erase all of them automatically. If you choose the manual removal option, carefully evaluate all existing threats (use a malware scanner), and tackle the most unpredictable and dangerous infections first.
Remove PlayPopGames from Windows
Launch Explorer, which you can do by tapping Win+E keys simultaneously.
Delete the PlayPopGames folder in these directories (to access the directory, enter its name into the address bar of the Explorer):

%LOCALAPPDATA%
%UserProfile%\Local Settings\Application Data\
%ALLUSERSPROFILE%\Start Menu\Programs\
%ALLUSERSPROFILE%\Application Data\Microsoft\Windows\Start Menu\Programs\
%ALLUSERSPROFILE%\Microsoft\Windows\Start Menu\Programs\
%USERPROFILE%\Microsoft\Windows\Start Menu\Programs\
%APPDATA%\Microsoft\Windows\Start Menu\Programs\

Close the Explorer and check your Desktop for any shortcuts. If they exist, delete them.
Launch RUN by tapping Win+R keys and enter regedit.exe into the dialog box.
In the Registry Editor move to HKCU\Software\Microsoft\Windows\CurrentVersion\Uninstall\.
Right-click the key called playpopgames.com and select Delete.
In non-techie terms:
Our research team recommends removing PlayPopGames because this game manager is also an ad-supported program that might inject the advertisements of unfamiliar parties. Cyber criminals and virtual schemers often use vulnerable programs to showcase corrupted ads and introduce users to scams, which is why you have to be extremely selective about what kinds of ads you interact with and what kind of software you install onto your computer. We suggest finding a more reliable source to play games online and delete this adware from your PC right now. If you choose to eliminate this program by uninstalling it or using the guide above, do not forget to inspect your operating system afterward to look for other threats. This responsibility is lifted off your shoulders if you choose to employ automated malware removal software.