Do you know what PlayCenter Search is?
PlayCenter Search is a potentially unwanted program that operates as an extension on the Google Chrome web browser. This PUP is created by Play Media Center, and it should be officially represented at playmediacenter.com. At the moment, this source promotes the installers of other potentially unwanted programs, including GamesCenter Search, MovieCenter Search, ArcadeCenter Search, and VideoCenter Search. However, you can download the extension discussed in this report from the Chrome web store page (chrome.google.com/webstore/detail/playcenter-search/dapoijobnfbbkflnhnjlifonpegdcaip) that was set up by the developer. If you acquire the extension from the Chrome web store, you are informed that the default search provider is automatically changed to play.eanswers.com, and that is one of the reasons to remove PlayCenter Search because this search tool redirects to Yahoo Search without any authorization. If you want to learn more about the elimination, please continue reading.
Although an official installer exists, it appears that PlayCenter Search could also be spread via pop-ups, and third-party installers could be involved in this. Unfortunately, in this case, the chances of you letting in additional PUPs or threats are much higher. Notably, if you install the extension from the Chrome web store, you could be routed to a page offering something else as well. Needless to say, we do not advise installing anything linked to PlayCenter Search. The PUP itself does not deserve your trust either. If you have reviewed the Privacy Policy available at playmediacenter.com/privacy.php, you might have already discovered already that this extension can deliver "targeted content and advertisements," which indicates that it has adware functionality. Do you want to be flooded with ads when trying to play online games? If you do not, you will choose to remove this PUP. The Privacy Policy also informs that questionnaires and subscription forms could be shown (not clear in what way) to collect information about you, which could include personal information as well.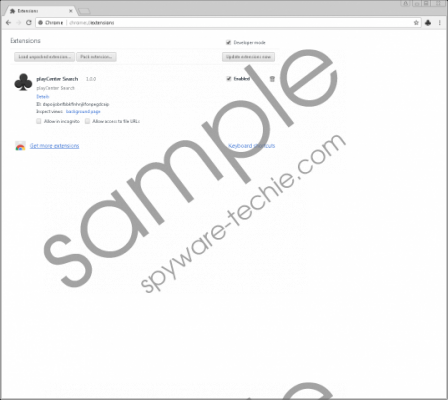 PlayCenter Search screenshot
Scroll down for full removal instructions
If you end up installing PlayCenter Search, you will find a button on the right of the Google Chrome address bar. If you click this button, you open a window that shows a search field and direct links some games. All of them promote cantstopplaying.com, which indicates that this is the service the PUP was created to advertise. Of course, it is more important to look at your default search provider, which the PUP takes over upon installation. Although play.eanswers.com is meant to be the default search tool, actually, it reroutes to Yahoo Search, and this might confuse users; especially if Yahoo Search was set as default search provider already. According to our research, play.eanswers.com modifies the results to include sponsored content, and we cannot vouch for their reliability. Since unreliable, misleading, and maybe even malicious links could be added, you certainly need to consider removing this search tool. The thing is you can do it only by deleting PlayCenter Search from Google Chrome.
It is very easy to delete PlayCenter Search from your operating system. All you have to do is find the add-on and eliminate it. If you have no experience with this, refer to the guide below to learn what steps you need to take. Are you dealing with other PUPs or malicious threats? If you are, you need to find a way to eliminate them as well. If you realize that this is not a situation you can handle on your own, you might benefit from employing anti-malware software. Note that this software is primarily designed to keep the system protected, which is another reason to installing it onto your operating system.
Remove PlayCenter Search
Open Google Chrome.
Simultaneously tap Alt+F keys to open the Chrome menu.
Click More tools and then Extensions.
Click the recycle bin associated with the unwanted extension.
Select Remove.
Scan your operating system to check if there are other PUPs of threats that require your attention.
In non-techie terms:
Has PlayCenter Search slithered into your operating system? If it has, it is most likely that you let it in yourself. This potentially unwanted program is meant to introduce you to a search tool that, allegedly, can help you find online games, but it is more likely that it was created to promote play.eanswers.com. This strange search tool modifies search results after rerouting you to Yahoo Search in order to promote third-party links. Besides that, it is known that this PUP can collect information. Due to these reasons, our research team recommends deleting PlayCenter Search from your Google Chrome web browser. Check out the guide above if you are interested in manual removal, or download a legitimate anti-malware tool to have this potentially unwanted program deleted automatically.