Do you know what Play-Bar.net is?
Play-Bar.net has been found to take over web browsers illegally, which is why it deserves to be classified as a browser hijacker. According to the information we have gathered, this hijacker can infiltrate Internet Explorer, Mozilla Firefox, and Google Chrome browsers, all of which are popular and used by many. Unfortunately, the official source of this hijacker was not found, and we fear that this infection can travel bundled with malicious programs. Although it might be difficult to see all unreliable threats with the naked eye, a simple, up-to-date malware scanner can help you find which programs require removal. Talking about removal, we suggest deleting Play-Bar.net without further hesitation.
Although Play-Bar.net resembles a search provider, it should be clear that it is not a regular search tool. This provider has only two features, including Games and Search web. If you click the Games tab, you will be routed to play-bar.net/games.html, and most games represented on this site promote a10.com. The Search web also represents a third-party tool, search.smartshopping.com. This search provider is not reliable because it shows sponsored search results. Needless to say, Play-Bar.net is not a beneficial search provider, and this is why you need to remove it right away. Our research team has found that the search might be redirected via esurf.biz/?ssid?, which makes it even more important to delete this hijacker.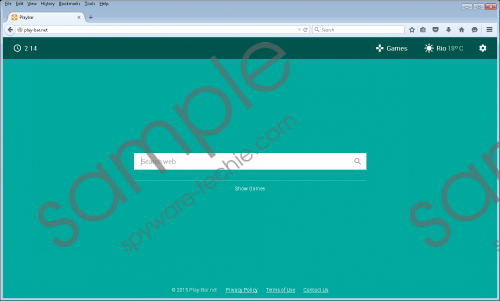 Play-Bar.net screenshot
Scroll down for full removal instructions
According to the privacy statements in the Privacy Policy, Play-Bar.net belongs to Blisburry LLP, and this company can inject third-party ads that can "perform user activity tracking." Users are urged to check the privacy policies representing the third-party data-collecting tools, but this is easier said than done. This document also reveals that Play-Bar.net could introduce you to surveys, and personal information could be requested. Obviously, since we recommend removing this hijacker, interacting with the surveys issued by it is the last thing you should do. If you have disclosed personal information already, you have to beware of scams even after you delete the clandestine hijacker.
We have created a simple removal guide that will help you replace Play-Bar.net with the desired search provider. Unfortunately, we cannot guarantee that this will be enough to eliminate this hijacker. Once you adjust the browsers, please use a malware scanner to see if all components of this hijacker were deleted. If you find that leftovers exist – or if other malicious programs exist – our advice is to use an automated remover to have Play-Bar.net deleted fully. Note that reliable antimalware software should be installed to keep malware away, and you should not postpone the installation of this software.
Delete Play-Bar.net
Delete from Mozilla Firefox
Open the browser and tap Alt+T.
Select Options and navigate to the General menu.
Edit/remove the Home Page URL.
Navigate to the Search menu.
Remove the undesirable search provider.
Delete from Google Chrome
Open the browser and tap Alt+F.
Select Settings and navigate to the On Startup menu.
Choose Open a specific page or set of pages and click Set pages.
Edit/remove the URL of the unwanted provider and click OK.
Navigate to the Appearance menu.
Choose Show Home button and click Change.
Edit/remove the URL of the unwanted provider and click OK.
Navigate to the Search menu and click Manage search engines.
Click the X mark to remove the undesirable search provider and click Done.
Delete from Internet Explorer
Open the browser and tap Alt+T.
Select Manage Add-ons and navigate to the Search Providers menu.
Remove the undesirable provider and click Close.
Tap Alt+T again and select Internet Options.
Click the General tab and find the Home Page section.
Edit/remove the URL and click OK.
In non-techie terms:
Did you approve the installation of Play-Bar.net? If you did not, this hijacker must have taken over your browsers illegally. In either case, we recommend removing Play-Bar.net from your web browsers. The instructions in this report should help you remove Play-Bar.net, but we suggest using a malware scanner as well. Only if the scanner indicates that your operating system is clean, should you get back to regular computing. We also recommend implementing reliable security software to ensure that malicious programs cannot attack your operating system again.