Do you know what PicZoomer is?
PicZoomer is a program that is meant to help you capture and manage images. Although this program does work, there is at least one reason why you might choose to remove it from your operating system. It was found by our malware researchers that this suspicious application can show advertisements created by unknown parties, and this is the reason we classify it as a potentially unwanted program. If you understand the risks of encountering unpredictable online ads, you can go ahead and use the removal guide below to delete PicZoomer. If you do not understand why it could be dangerous to interact with the ads associated with unfamiliar parties, you need to read this report.
PicZoomer Ltd. is listed as the creator of PicZoomer, but there is a possibility that a different company hides behind this name. In fact, many unnamed companies might hide behind this seemingly useful program. The Privacy Policy, which you can review at piczoomer.net/privacy.html, discloses that third party associates can collect information about you and use the PUP to introduce you to attractive ads. The fact that third-party advertisers are not revealed forces us to consider even the most horrendous scenarios. For example, if PicZoomer was associated with schemers – which could happen by accident – the ads shown to you could be malicious! Hopefully, this is not something you will have to deal with, but this is something we cannot brush under the rug when discussing the removal of PicZoomer.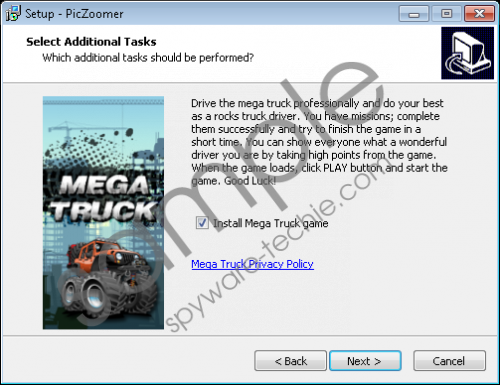 PicZoomer screenshot
Scroll down for full removal instructions
Our research team has found that piczoomer.net is not the only source of PicZoomer. This potentially unwanted program could come packaged with other suspicious programs as well. In fact, PicZoomer itself could promote third-party programs, such as the Mega Truck game. We strongly advice analyzing the programs offered before installing them. If you are careless, the chances of you installing malware increase, and it is much easier to keep malware away than it is to delete it from your PC. Note that a legitimate malware scanner can help you identify which programs are malicious and require removal.
Have you created a removal plan that will help you remove PicZoomer and other unreliable programs that could be active on your PC? If you have no idea where to start, we suggest the instructions below. Once you have PicZoomer deleted, you can tackle the remaining threats, as well as take care of the protection of your operating system. We advise installing reliable antimalware software because it can remove all unreliable programs, including PUPs, and reinforce Windows protection at the same time.
Delete PicZoomer from Windows
Delete from Windows XP
Move the cursor to the left of the Taskbar and click the Start icon in the corner.
Open the Control Panel menu and double-click Add or Remove Programs.
In the Change or Remove Programs menu select and Remove PicZoomer.
Delete from Windows Vista & Windows 7
Move the cursor to the left of the Taskbar and click the Windows/Start button.
Open the Control Panel menu and click Uninstall a program.
Right-click the program you want to remove from your PC and select Uninstall.
Delete from Windows 8 & Windows 10
Tap Win+R on your keyboard to launch RUN and enter Control Panel.
Select Uninstall a program (find under Programs/Programs and Features).
Identify the program you wish to remove, right-click it, and choose Uninstall.
In non-techie terms:
PicZoomer is identified as a potentially unwanted program because besides providing the services it promises it also has a secret agenda, which is to expose you to third-party advertisements. Although we cannot claim that all of the ads shown by this PUP will be malicious and misleading, you have to consider this if you are deciding whether or not you should remove PicZoomer from your computer. If you decide to remove this PUP, initiate manual removal or install a tool that will delete this PUP along with all other existing threats automatically.