Do you know what Pics4NewTab Chrome Extension is?
Pics4NewTab Chrome Extension is a potentially unwanted program. It means that you may add this extension to your browser accidentally without meaning it. If this extension happens to be in your browser, but you do not remember adding it, perhaps it is time to scan your system with the SpyHunter free scanner. You will probably be surprised to find many unwanted applications on-board. So when you remove Pics4NewTab Chrome Extension, you should also see to it that you get rid of other applications that might eventually expose you to dangerous third-party content.
Perhaps one of the most frustrating things about potentially unwanted programs is that they are widely available anywhere and everywhere. Programs like Pics4NewTab Chrome Extension also tend to have official websites, and that is definitely something that does not allow us to label it as malware. After all, the program does not enter your system surreptitiously, so it is very far from a genuine infection. It also means that if you want to avoid such applications, you need to be more attentive when you download new apps from file-sharing websites. For that, we need to cover several distribution methods used by Pics4NewTab Chrome Extension.
As mentioned, Pics4NewTab Chrome Extension has an official homepage, and you can access it at picslp.4newtab.com. The moment you open that website, you will see a pop-up that asks you whether you want to add the extension to your Chrome browser. As you can tell, the extension is compatible only with Chrome at the moment. But on the pop-up, you can also see several notifications that say this extension can "read and change all your data on the websites you visit," as well as "replace the page you see when opening a new tab." So it is clear that the extension is rather intrusive, and it can affect the content you see when you browse the web.
What's more, the official website is definitely not the only place where you can get this extension. It is also on the Chrome Website, and it comes with the statistics that over 1000 users have added this extension. Finally, it is always possible that Pics4NewTab Chrome Extension comes bundled with freeware, especially if you download new programs from third-party sources. Third-party installers tend to bundle several applications together, and if you do not check the installation steps, you are bound to add these unnecessary apps to your browser.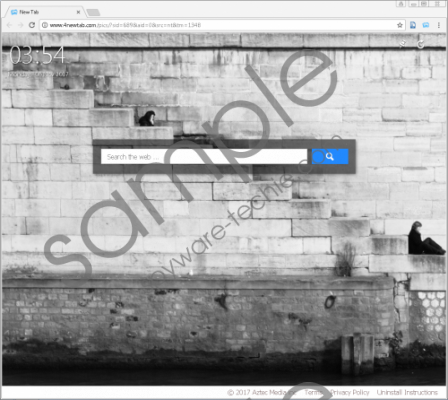 Pics4NewTab Chrome Extension screenshot
Scroll down for full removal instructions
What is the official promotional line of this extension? Well the official homepage says that with Pics4NewTab Chrome Extension added your browser; you will "get FREE amazing pics every time you open a new tab in Google Chrome." The extension will show "hand picked images just for you," and you will be able to "redesign your browser." It offers you to "customize your New Tab page with Beautiful images and wallpapers." And it seems that these offers are quite attractive, but that is only until you realize the other side of this extension.
To provide you with this service, Pics4NewTab Chrome Extension changes your search settings to blpsearch.com. In some cases, this search engine can be considered a browser hijacker, too. What's more, the extension does not provide you with original search service. It uses a modified version of Yahoo! Search instead, and it is bound to display third-party advertisements. The point is that such extensions need to display third-party content to survive, but computer security experts always maintain how dangerous that is. The danger comes from the fact that Pics4NewTab Chrome Extension cannot review the third-party content it promotes, and sometimes this can be exploited by malevolent third parties. Hence, it is for the best to avoid such things altogether, than deal with it every single day.
Please remove Pics4NewTab Chrome Extension right now, and then look for other unwanted applications, provided this extension arrived in a software package. You should also consider acquiring a powerful security program that would safeguard your system from other intruders in the future. But do not forget that your web browsing habits are just as important in ensuring your system's safety. Choose programs from their official websites, and stay away from pages that are bound to offer a lot of suspicious stuff.
How to Remove Pics4NewTab Chrome Extension
Open your Chrome browser.
Press Alt+F and click More tools.
Go to Extensions.
Remove Pics4NewTab from the list.
Restart your browser.
In non-techie terms:
Pics4NewTab Chrome Extension is not a dangerous computer infection, but if it is there and you do not want, you should not tolerate it. This extension belongs to a group of applications that could be easily exploited by cyber criminals to promote their content, so it is for the best to stay away from them. If you think that your computer could be full of such applications, you can always scan it with a licensed security tool to be 100% sure.