Do you know what Pico-search.com is?
When you notice Pico-search.com after launching your browsers, you should know that a browser hijacker has attacked your system. This hijacker promotes this potentially risky search engine and this could bring more infections and security-related issues to your computer. In fact, this hijacker can sneak onto your system along with other malicious program installers bundled together. So if you find this infection in your browsers, there is a good chance that you will also find adware programs, potentially unwanted programs, or other threats on your system. According to our researchers, this browser extension changes your home page and default settings, which might also take place without your knowledge or permission. Apart from these undesirable changes, this application may also install a useless toolbar. All in all, this is an annoying and potentially unreliable browser hijacker that requires your attention right now. We suggest that you delete Pico-search.com immediately because before long your Internet connection speed might drop and you may also infect your computer with more malware threats through the use of this search page.
The most common way to get infected with this browser hijacker is to click on corrupt third-party ads while browsing the web. These ads can come from two sources. First, you can end up on shady file-sharing and gaming websites that host a lot of third-party ads. These pages can be rather confusing; mostly if you are unfamiliar with them. You may think, for example, that you are clicking on a download button, yet, instead, you drop a bundled "surprise" package onto your machine because it is indeed a third-party ad disguised as a button. This happens a lot, and this is exactly how most inexperienced computer users infect their system. The biggest problem is that you may allow a whole bunch of threats to enter your computer this way.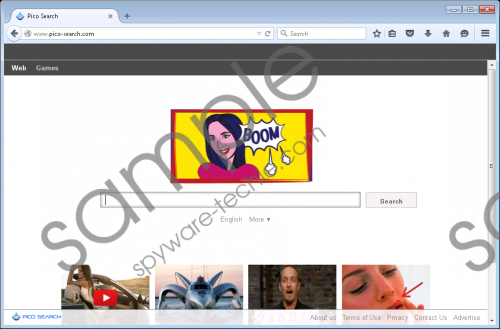 Pico-search.com screenshot
Scroll down for full removal instructions
Another possibility is that your system has previously been penetrated by adware infections and these generate the unreliable ads through your browsers. We hope that you see now that clicking on third-party ads can put you into a very difficult situation. It is also worth mentioning that you should stick with reputable and official websites when it comes to downloading software and updates. There are all kinds of scams to trick you through third-party ads into believing that you need urgent updates and if you click on the provided button, you can be "saved." Unfortunately, this will only result in more infections on your PC. We advise you to remove Pico-search.com right now and run a full-system malware scan to identify all possible threat sources.
As a matter of fact, we cannot leave out the official webpage this browser extension has at info.pico-search.com even if we cannot say too much about it. This page raises some questions. First, it is strange that apart from a few promotional sentences that try to sell this useless tool as "advanced technology" you cannot find anything else there; yet, it is translated into about twenty languages. In fact, it is impossible to download this search page tool from this page, but, instead, you have three separate pages to tell you how you can remove it.
Our researchers say that this browser hijacker is not a newly emerged branch. In fact, this infection is the clone of royal-search.com and other well-known browser hijackers. There is nothing special about this infection really. It was created to provide manipulated search results that may serve as a gateway for cyber criminals to embed their own compromised links and ads. When you find yourself on a search page that may come from redirection to a modified but otherwise reputable third-party search engine (Yahoo, Bing, Google), you may regard these results as reliable and could not see the difference between legitimate ones and corrupt ones. This is why it is risky to click on any content really. If you are unlucky, you may end up on malicious websites and infect your PC with more threats. Or, you may also land on a fake online shop and reveal your banking details to crooks. If you want to save yourself from such scenarios, we suggest that you delete Pico-search.com right now.
Since there could be a number of setting changes and installations this browser hijacker does in your browsers, we advise you to reset all of them to be on the safe side. Please follow our instructions below if you have never done this before. For powerful protection of your virtual world, we suggest that you consider installing a reputable anti-malware program that can automatically defeat any known threats. If you keep this security tool always up-to-date, you should have no more problems with malware invasions. If you have any questions regarding the removal of Pico-search.com, please leave us a comment below.
Remove Pico-search.com from your browsers
Mozilla Firefox
Press Alt+H and go to Troubleshooting Information.
Press Refresh Firefox.
In the confirmation window, click Refresh Firefox.
Click Finish.
Google Chrome
Press Alt+F and go to Settings.
Scroll down and click Show advanced settings.
Click Reset settings at the bottom.
Press Reset in the pop-up.
Internet Explorer
Press Alt+T and go to Internet Options.
Select the Advanced tab and click Reset.
Mark Delete personal settings and click Reset.
Press Close.
In non-techie terms:
Pico-search.com can emerge in your browsers when a browser hijacker infiltrates your system. This questionable browser extension can cause virtual security problems for you; therefore, its presence is undesirable. Although, the server seems to be down momentarily, you should not keep it on board a moment longer. This browser hijacker can enter your system along with other malware infections, which could cause multiple threats to your computer. If you do not want to damage your files or any data you store on your hard disk, you should act right away. We advise you to remove Pico-search.com without a second thought together with any potentially harmful applications. If you do not want to use manual methods to do so, we suggest that you download and install a trustworthy anti-malware application instead that will automatically detect and eliminate all possible threats as well as safeguard your PC from further malicious attacks.