Do you know what Pickles Ransomware is?
Our malware analysts have come across a new malicious program that has since been called Pickles Ransomware. This computer infection means business because it can encrypt your personal files and demand that you pay a ransom. However, the twist here is that the provided Bitcoin wallet address is fake and you would not be able to transfer the money, so removing it is your only option. Apparently, this ransomware is still in development but test versions are starting to pop up, so it is essential that you protect your PC with an anti-malware program because there is no information about how it is distributed.
If your computer were to become infected with Pickles Ransomware, then it will jump into action immediately and scan your PC for encryptable files. Researchers say that this particular ransomware uses the AES encryption algorithm to encrypt most of the files on your PC with particular focus on documents, images, videos, audios, and so on. Basically, it was designed to target your personal files to compel you to pay the unspecified ransom.
While encrypting your files, Pickles Ransomware is set to replace the names of the files with a 30-character long string and then append them with an ".EnCrYpTeD" file extension. This ransomware does not create a Point of Execution (PoE) which means that it will not run again after you reboot your PC. Furthermore, it should delete itself entirely, but not before dropping several other files.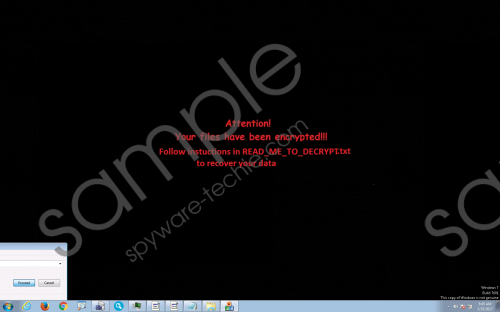 Pickles Ransomware screenshot
Scroll down for full removal instructions
Research has shown that Pickles Ransomware will drop three additional files. READ_ME_TO_DECRYPT.txt is a text file that features the ransom note, encrypted.txt is a text file that features the file paths of all encrypted files, and to_decrypt.py that is used to decrypt the files. to_decrypt.py is where you should enter the received decryption password. The ransom note features an email address to which you have to send a unique code featured in the note as well as the Bitcoin wallet address, but we have found that it does not actually exist, so you cannot make any payments, And, even if you did, there is no way of knowing whether you can trust the criminals to send you the password. The amount to be paid is not specified so how much the crooks want is anyone's guess. Furthermore, the cyber criminals use scare tactics by claiming that they will delete the decryption password if you fail to make the payment within 72 hours of the infection.
As you can see, Pickles Ransomware is rather dangerous if though it has not been completed yet. Our malware researchers say that there is no way to pay the ransom to get the password, so your only option to date is to remove this ransomware and hope that a free decryption tool will come out soon. To eradicate this infection, you can use SpyHunter, a powerful antimalware application or our manual removal guide featured below. Both methods are effective, but you must know the location of the main executable named Pickles Ransomware.exe to get rid of it.
How to remove this ransomware
Locate Pickles Ransomware.exe (check Downloads folder and desktop)
Right-click it and click Delete.
Then, go to the desktop and identify READ_ME_TO_DECRYPT.txt, encrypted.txt, and to_decrypt.py.
Right-click those files and click Delete.
Empty the Recycle Bin.
In non-techie terms:
Pickles Ransomware is one of many ransomware-type infections that were designed to encrypt your personal files. This new ransomware is particularly dangerous because you cannot buy the decryption password like you could with most ransomware. This ransomware deletes itself once its job is done but it might remain if some anomalies were to occur. If you want to keep your PC malware free, you should get rid of all of this program's files.