Do you know what PiccShare is?
PiccShare is a relatively reliable application that may even be called useful; however, this is only one side of the coin. According to our researchers, this program may start showing third-party commercial advertisements in your Mozilla Firefox and Google Chrome browsers, which are affected by this browser extension. Therefore, this application has been labeled as an adware program. Many users do not consider adware infections as dangerous. And, of course, this adware may not be as dangerous as a Trojan ransomware that can encrypt all your files with an impossible-to-decipher algorithm, but these advertisements may still be able to introduce you to harmful websites. Closing these ads does not lead anywhere and will not stop the flow of commercials. You need to remove PiccShare if you want to protect your PC from the ugly potentials this adware may hold for you and your computer.
If you are looking for a browser extension that can help you share online images with your friends, you may come across with piccshare.com, which is the official web page of this adware application. You can download the installer directly from this site; however, if you have an up-to-date security tool installed and running in the background, this installer may get flagged as an adware application. This is one of the reasons why it is important to protect your computer with such a useful tool. Otherwise, you could easily download this adware, without any issues. But it is quite likely that you have never even visited this website and your computer has still been infected with this malware.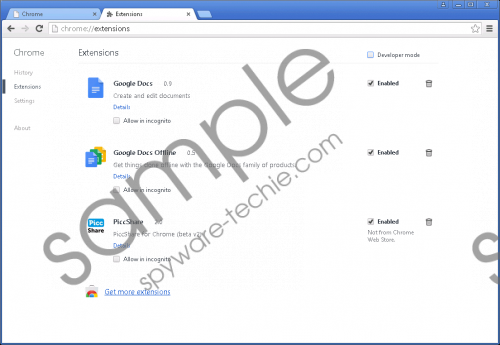 PiccShare screenshot
Scroll down for full removal instructions
It is possible, if you have visited suspicious file-sharing websites recently, that you clicked on the wrong third-party ad, link, or button and you downloaded a malicious bundle. These bundles may be packed with a number of malware threats, such as adware programs, browser hijackers, and potentially unwanted programs as well. If you allow the whole package onto your computer, you will be facing multiple security issues. Since you may not be sure how this adware has sneaked onto your computer, we advise you to scan your system with a reliable online malware scanner, but before that, you should remove PiccShare.
This application may be a fully functional tool, which is quite rare when it comes to adware applications, but we still recommend that you do not leave it on your computer because it can introduce you to potentially unreliable third-party advertisements. Since this adware may monitor your online activities, i.e., spy on you, it is possible that, after some time, you will see totally relevant advertisements (banners and pop-up ads) that reflect your taste or needs. Keep in mind that such commercials may serve as bait. Cyber criminals may target you with tailored ads to trick you into clicking on their ads so that you will be redirected to their malicious websites. These visits rarely end well for the unsuspecting users. Therefore, you should remove PiccShare if you do not want to find out how such encounter can end for you.
We wish we could tell you that this adware has a fully working uninstaller that you can activate through Control Panel and this infection will be history and gone without a trace. However, the sad reality is that not only may this uninstaller leave a mess behind, but it may also leave the browser extensions untouched. That is why we do not think of it as a solution in this case. Instead, we have included a step-by-step guide below this article that should assist you with the manual process. Please keep in mind that this is not without risks since you have to delete certain Windows Registry keys. Making changes to the registry has its own dangers because making any mistakes could result in irreparable damage to your operating system. That is why we only recommend this solution for those users who know what they are doing and are aware of these risks. But, if you want to make sure that your computer gets cleaned of all the threats present, we advise you to download and install a reputable anti-malware program.
PiccShare Removal from Windows
Tap Win+Q and enter regedit. Press the Enter key.
Find and remove these registry keys:
[HKLM/HKCU]Software\HTTOGroup\PiccShare
[HKLM/HKCU]Software\Google\Chrome\Extensions\docfnddcclkgokdfpnmngpiliiachclb
[HKLM/HKCU]Software\PiccShare
HKLM\SOFTWARE\Wow6432Node\Microsoft\Windows\CurrentVersion\Uninstall\PiccShare (64-bit!)
HKLM\SOFTWARE\Microsoft\Windows\CurrentVersion\Uninstall\PiccShare
Close the editor.
Tap Win+E.
Find and remove these folders:
%UserProfile%\Local Settings\Application Data\Google\Chrome\User Data\Default\Extensions\docfnddcclkgokdfpnmngpiliiachclb
%LOCALAPPDATA%\Google\Chrome\User Data\Default\Extensions\docfnddcclkgokdfpnmngpiliiachclb
%UserProfile%\Local Settings\Application Data\Google\Chrome\User Data\Default\Extensions\ext_piccshare
%LOCALAPPDATA%\Google\Chrome\User Data\Default\Extensions\ext_piccshare
Remove ext_piccshare_uninst.exe from %LOCALAPPDATA% and %USERPROFILE%\Local Settings\Application Data directories.
Reboot your operating system.
In non-techie terms:
PiccShare is an application that seems to work just fine as a picture sharing tool; however, our researchers have classified it as an adware program due to the fact that it may start showing potentially unreliable third-party advertisements. Unfortunately, these ads may present to you unsafe web content. Engaging with such content may lead to more malware infections and the possibility to be scammed by cyber criminals. Since this adware may have arrived with a company of malicious software installers, chances are there are a number of threats on your computer that you should immediately take care of. We advise you to remove PiccShare ASAP together with all other infections you may find. If manual removal is out of the question for you, we suggest that you use a professional anti-malware application that will also safeguard your operating system from further invasions.