Do you know what Picasti Extension is?
Picasti Extension is an add-on that can be installed onto a web browser. Though we classify it as a PUP (potentially unwanted program), this add-on is often classified as an advertising-supported program. It is possible that if you do not delete this extension from your web browsers, they might be flooded with advertisements. Although most users consider ads annoying and disruptive, the most important thing is that some of these ads can also be dangerous. Not all advertisements are misleading, and not all advertisers have malicious intentions, but you must keep in mind that cyber crooks can exploit programs that offer advertising platforms. In fact, some of these platforms can be created by cyber criminals themselves. Overall, it is crucial to be vigilant about programs that can introduce you to ads. Continue reading, and you will be able to decide for yourself if you need to delete Picasti Extension or if you can trust this program.
Did you install Picasti Extension yourself? If you have, did you use an official installer? According to our research team, an official download page does not exist, which is not a good sign. In the past, this add-on was promoted at the Chrome web store; however, it has been taken down, which signals that it got bad reviews or that it was discovered to be malicious. Overall, if you have not used a legitimate source, it is most likely that you discovered the Picasti Extension via an unfamiliar installer that you might have launched by downloading a different piece of software. Whether the extension was introduced to you in a clear manner or it was concealed from you, you have to be cautious about it. When downloading the extension, you might have been introduced to a pop-up indicating that the app can "read and change all your data on the websites you visit." Isn't this strange? When you see a statement like this, you should consider rejecting software because you might end up deleting it anyway.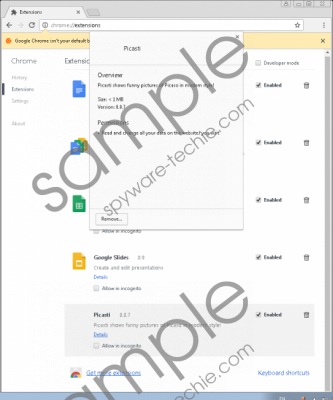 Picasti Extension screenshot
Scroll down for full removal instructions
It is likely that Picasti Extension will record your virtual activity and check the contents of the pages you browse. Since the add-on can change the data on these sites, it is likely that new advertisements will be injected instead of regular ads or different kinds of content. As mentioned previously, Picasti Extension has the reputation for showcasing ads, and this might be the main signal informing you that something is wrong. If you do not use ad-blockers, you must be used to seeing ads; however, you need to stay vigilant. If you start seeing more ads than usual, or if they are introduced to you in an unusual manner (e.g., reappearing pop-ups, flashy banners, or ads that are opened in new pages), you must be suspicious. Even if the ads shown by the suspicious extension are not malicious, do you want to see them? After all, it is advertised as a tool that can show funny pictures, not show ads.
Even if you recognize Picasti Extension as a harmless program, are you sure that its services are useful? If you do not, you need to get rid of it without any hesitation. According to our research, the extension's ID on Google Chrome might be "mhgcdjhdeoinadoehjnbfnddbeniklkf," but you should be able to identify it by the name. All you have to do is click the recycling bin linked to the extension, and it will be removed immediately. Of course, if other infections exist on your PC, the best thing you can do is to employ an automated malware remover, and if you do that, you do not need to worry about deleting Picasti Extension as it will be eliminated along with all other threats.
Remove Picasti Extension
Launch Google Chrome.
Simultaneously tap keys Alt+F to open a menu.
Click More tools and then Extensions.
Click the recycling bin next to the unwanted add-on.
Choose Remove and then restart the browser.
Scan your operating system to check if you need to erase other threats.
In non-techie terms:
Picasti Extension might not look harmful or dangerous, but it is not beneficial either, and that is a good reason to get rid of it. According to our research, there is a great possibility that this potentially unwanted program can show advertisements, and that might disrupt your web browsing experience; not to mention that ads could be dangerous as well. If you choose to delete Picasti Extension from your web browsers, you can follow the instructions above. In case you decide to invest in anti-malware software – which can erase malware and protect your operating system – you do not need to worry about the add-on at all.