Do you know what Pesquisa.ninja is?
It is highly unlikely that you have replaced your regular homepage on IE, Chrome, and Firefox browsers with Pesquisa.ninja yourself. This means that this search provider was installed without your permission, which makes it a browser hijacker. No matter how attractive or harmless a browser hijacker might look, you must remove it just because it has the power to invade your operating system in an illegal manner. Unfortunately, Pesquisa.ninja is not a harmless hijacker, and there are several other reasons to delete it from your operating system right now. According to our research team, it is most likely that you will need to remove Pesquisa.ninja if you live in Brazil.
As you might have noticed, official information representing Pesquisa.ninja does not exist. This search provider does not showcase its privacy policies, does not disclose its developer, and does not allow the users to learn how it works. It appears that the only function this hijacker has is to assist you when browsing the web; however, trusting Pesquisa.ninja would be a great mistake. This search tool redirects users to third-party search engines, and, even if you are familiar with them, you should not interact with the search results provided. Br.search.yahoo.com is one of the search tools that you might be redirected to. Needless to say, Yahoo is a reliable search provider, but the version introduced to you by Pesquisa.ninja might have been changed/modified to serve the creators of the hijacker. Have you noticed suspicious ads or sponsored links? These could be injected by the hijacker or ad-supported programs that are known to travel bundled with it. As you can guess, adware requires removal as well, but, at this moment, it is most important that you delete Pesquisa.ninja.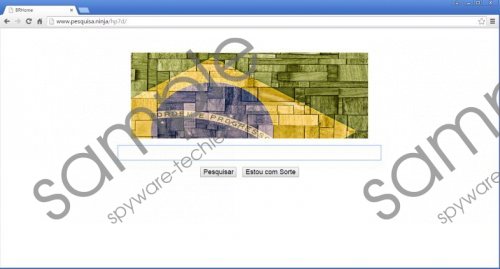 Pesquisa.ninja screenshot
Scroll down for full removal instructions
If you do not remove Pesquisa.ninja from your browsers right away, it is very possible that this threat will employ tracking cookies to track every move you make. On top of that, as mentioned previously, you might be exposed to suspicious third-party offers and links to unfamiliar sites, all of which can be very dangerous. Do you need more proof that Pesquisa.ninja deserves removal? We are sure that you have already made up your mind, and we can help you delete this browser hijacker. Our research team has found that to delete Pesquisa.ninja users need to uninstall certain programs (ActSys, CashReminder, GOSafer, WNet) and then delete leftover system files. We explain it all via the removal instructions below. When it comes to the removal of adware and infections that you might have downloaded with this hijacker, there is no better way to get rid of them than by using authentic security software.
Removal step 1: uninstall software
From Windows 8.1 or Windows 8
Tap Win+R to launch RUN and enter Control Panel.
Move to Uninstall a program.
Right-click the app you wish to remove and select Uninstall.
From Windows 7 or Windows Vista
Click the Windows/Start icon on the Taskbar.
Open Control Panel and move to Uninstall a program.
Right-click the app you wish to remove and select Uninstall.
From Windows XP
Click the Start menu icon on the Taskbar.
Open Control Panel and move to Add or Remove Programs.
Select the unwanted application and click Remove.
Removal step 2: delete files
Launch Windows Explorer (Win+E) and access %windir%\system32\drivers.
Right-click the malicious file (asfilterdrv.sys, crfilterdrv.sys, gosaferdrv.sys, ssfilterdrv.sys) and select Delete.
In non-techie terms:
Pesquisa.ninja is not a regular search provider. This one can attack your browsers without permission, which is why we identify it as a browser hijacker. If you do not want to be exposed to risks associated with malicious programs like this one, you have to delete it from your operating system right now. Note that if you try to remove Pesquisa.ninja by replacing it, you will not succeed. You have to uninstall malicious programs and delete files to eliminate this browser hijacker successfully, and you can do that using our removal guide above.