Do you know what Personal-browser.com is?
Personal-browser.com is a browser hijacker that will sneak into your system unexpectedly. This search engine does not have a direct download link, so, most of the time; users do not realize they install this program on their computers. Thus, they get flustered when they need to remove Personal-browser.com because they have no idea where to start. We would like to remind you that such infections usually travel in packs, so if you are about to delete this browser hijacker from your system, you might as well run a full PC scan to determine what other unwanted and potentially dangerous programs are on-board.
Personal-browser.com is doing a good job at trying to make an impression that it is a reliable program. After all, if you open info.personal-browser.com, you will be greeted with a sophisticated design and even a set of instructions on how to remove Personal-browser.com from your default browser and your computer. When the information is presented in this way, it is hard to call this program a browser hijacker, but this is exactly what our research lab team says. The program is an uninvited guest and that's final. I can't really argue with that because judging from the user complaints, Personal-browser.com really does seem to appear uninvited.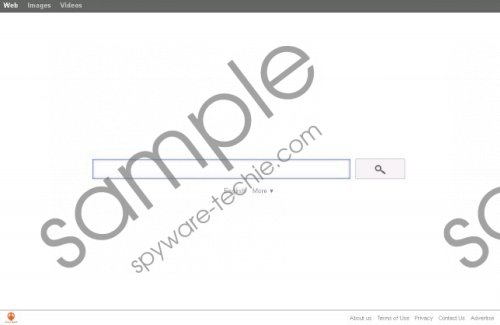 Personal-browser.com screenshot
Scroll down for full removal instructions
Let's analyze this a little bit. We have mentioned already that this browser hijacker is not distributed directly. However, that does not present its creators with any kind of obstacle. On the contrary, they save time and money by bundling Personal-browser.com with third-party freeware applications. Freeware apps are often available for download at various file-sharing websites, and it is very common that such programs are bundled with some additional apps that are very far from being reliable. Hence, the reason Personal-browser.com is on your computer, is that you have recently downloaded some application from an unreliable website and, as a result, you ended up installing a number of potentially unwanted applications. To put it simply, Personal-browser.com is just one of your problems.
Granted, Personal-browser.com does not pose an immediate threat to your system security. It is very similar to holasearch.com, buenosearch.com, only-search.com, and so on. We know that these browser hijackers are not extremely dangerous, but that is also something that should not be overlooked. Since Personal-browser.com does not look intimidating, some users might just leave it be, and that is one of the biggest mistakes you could ever make. Please do not underestimate Personal-browser.com because this search engine can easily track your browsing history. What's more, it can use the collected information to display customized commercial ads while you browse the Internet.
Needless to say, it is important to steer clear of unfamiliar commercial content because it is only a matter of time until you might face an outgoing link to a corrupted website. Personal-browser.com leave this kind of unpleasant opportunity open, so you have to remove Personal-browser.com as soon as possible to make sure you do not get infected with malware in the long run.
Please follow our manual removal instructions below to delete Personal-browser.com from your computer. Also, do not forget to terminate other potentially harmful programs that might have arrived along. If you are having difficulty trying to find which programs must be terminated, scan your PC with the SpyHunter free scanner to detect all the potential threats.
How to Delete Personal-browser.com
Windows 8 & Windows 8.1
Drag the mouse cursor to the lower right corner of your screen.
Click Settings on the Charm bar and go to Control Panel.
Open Uninstall a program and remove Personal-browser.
Windows Vista & Windows 7
Open the Start menu and click Control Panel.
Go to Uninstall a program and remove Personal-browser.
Windows XP
Click the Start button and navigate to Control Panel.
Select Add or remove programs and uninstall Personal-browser.
Delete Personal-browser.com From Your Browser
Internet Explorer
Press Alt+T and click Manage add-ons.
Remove Personal-browser from Toolbars and Extensions.
Click Search providers on the left pane.
Set a new default search engine and delete Personal-browser.
Click Close and press Alt+T again.
Open Internet options and click the General tab.
Change your homepage address and click OK.
Google Chrome
Press Alt+F and go to More tools.
Open Extensions and remove Personal-browser.
Click Settings on the left.
Mark Open a specific page or set of pages under On Startup.
Click Set pages and change your homepage address. Click OK.
Press Manage search engines under On Startup.
Set a new default search engine and delete Personal-browser. Press Done.
Mozilla Firefox
Click the search engine icon on the left of the Firefox search box.
Select Change search settings and remove Personal-browser.
Set a new default search engine and click OK.
Press Alt+T and go to Options.
Change your homepage address under the General tab and click OK.
Press Alt+T again and click Add-ons.
Disable and remove Personal-browser from Extensions.
Restart your browser.
In non-techie terms:
Although at first glance Personal-browser.com looks like a reliable search engine, but it would be unwise you trust it. This annoying program can be used by cyber criminals to infect you with malware, so that is definitely something you have to avoid at all costs. Please remove Personal-browser.com at once, and then get yourself a trustworthy antispyware application that will help you terminate any other similar threats.