Do you know what Pdfconverter.pro is?
Pdfconverter.pro is a website users find set on their Google Chrome browsers after they install the browser extension promoting it. It is available at https://chrome.google.com/webstore/detail/mediatab-tv-pdfconverter/pgcbamhcnohldmlkbngdagaaabkakfgd, but we do not think that all users install it on their computers consciously. Some of them find it installed on their computers without their knowledge, so it is not surprising why so many users find all these changes applied to their browsers undesirable. Research conducted by our experienced team of malware researchers showed that the majority of users who visit Pdfconverter.pro live in the United States, Indonesia, and India, so it is very likely that the browser extension promoting this website is spread the most actively in these countries. Of course, users can encounter it no matter where they live. Have you already found your browsers' settings altered too? If so, we suggest that you remove the browser extension (MediaTab TV – PdfConverter) from your browser right away. This is the only way to make the page set on it gone. It should be also emphasized that the piece of software promoting Pdfconverter.pro is known to be a potentially unwanted program, meaning that it is not trustworthy.
Media Tab TV – PdfConverter is presented as a tool for converting documents. Also, it promises to enhance the browsing and searching experience. To be more specific, it should change a background image of Pdfconverter.pro every 6 hours. Even though it is advertised as useful software, we have some doubts about this because setting a new page as a homepage and New Tab on Google Chrome is all it does. The page shows date and time, contains a search box in the middle, and has three quick-access buttons that open a third-party file conversion service. Without a doubt, you do not need to have this extension installed to be able to access this service. As for the search provider it promotes, we cannot promise that it will display only trustworthy search results to users. Specialists say that potentially unwanted programs often promote search engines that show sponsored search results too, so you should be very cautious. To tell you the truth, it might be impossible to recognize all of them, so the chances are high that you will click on them eventually. In some cases, these sponsored search results promote dubious websites, so it would be best not to click on any of them. You will be 100% sure that you cannot click on any of these sponsored links only if you stop using the search tool Pdfconverter.pro contains.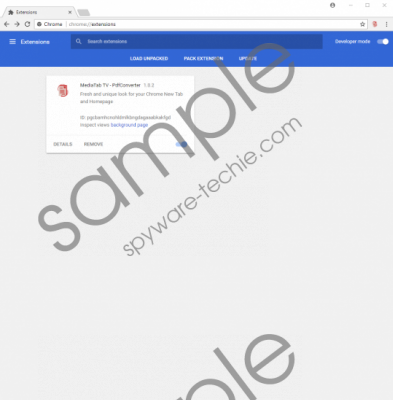 Pdfconverter.pro screenshot
Scroll down for full removal instructions
It seems that users usually contribute to the installation of the browser extension promoting Pdfconverter.pro themselves. They install it consciously from the Chrome Web Store, or download a software bundle containing this piece of software from some kind of untrustworthy file-sharing website. By installing it on PCs, users allow it to read and change data on all websites they visit, change a New Tab, set Pdfconverter.pro, and, finally, manage apps, extensions, and themes. If you have installed the MediaTab TV – PdfConverter extension yourself but you no longer want to keep it installed, you can remove it at any time. Potentially unwanted programs are prevalent threats, so there is a huge possibility to encounter a similar program in the near future if you leave your system unprotected. We do not think that you will protect your system from untrustworthy applications all alone, which is why we recommend installing a security tool as soon as possible.
Since you see Pdfconverter.pro set on your browser because you have installed the potentially unwanted program in the form of the browser extension on your computer, you will need to remove it to make this page gone from your Google Chrome browser. This will not be a difficult task, but if you have never removed a browser extension before in a manual way, you should let our removal guide help you.
Delete Pdfconverter.pro
Google Chrome
Launch Google Chrome.
Press Alt+F to open its menu.
Click More tools.
Open Extensions.
Select MediaTab TV – PdfConverter.
Click the Remove button.
Click Remove again.
In non-techie terms:
The sudden appearance of Pdfconverter.pro on your Google Chrome browser means that you have installed the browser extension promoting it on your computer. The extension itself is presented as a useful tool for converting files. Also, it promises to enhance both searching and browsing experience to a great extent. Unfortunately, it is not that perfect in reality. As has been observed, setting Pdfconverter.pro is all it does. If you are not happy about the changes applied, you should remove the browser extension mercilessly today.