Do you know what Pdf2DocPro is?
Have you downloaded Pdf2DocPro because it can convert PDF files and Word documents for free? That is definitely the biggest – if not the only – reason why Google Chrome users might be interested in this suspicious extension. Unfortunately, in many cases, users focus on the alleged benefits and the promises instead of the known facts and the analysis of virtual security specialists. Our team of specialists concludes that the extension, while not malicious, is not trustworthy, and users interested in converting files should find a better, more reliable tool for their needs. Most likely, you already have decided that you want to delete Pdf2DocPro, but if you are interested in learning more before you follow the removal instructions below, keep reading.
Perion Network Ltd. is the creator of Pdf2DocPro. This is not the first time we have encountered this company because it is also responsible for Sweetplayer and Better-Search.net, both of which were analyzed by our research team in the past. The company is likely to use software bundles to spread their product, in which case, you could acquire it bundled with unreliable programs and extensions. Of course, you might also acquire this potentially unwanted program from pdf2docpro.com. In fact, although a Download button is presented on this site, the actual installer of the extension is hosted on chrome.google.com/webstore/detail/pdf2docpro/ndgiipgjbobbpfaoceclhnckcagimhcn. If you install this extension, you agree that your data on the sites visited can be read and modified, and that the New Tab page can be replaced. Also, this installer comes with an additional offer to download "Switch2search.com search" via switch2search.com/ds/index.html?sid=. We do not recommend installing this add-on, and if you have, consider removing it. An older version of the PUP is also represented via the Chrome website at chrome.google.com/webstore/detail/pdf2docpro/finccmbmjdmhdcdjkfkkfdkbodjgelpc.
It appears that Pdf2DocPro can manifest itself in different ways. Some might find Search.pdf2docpro.com to be represented as the homepage after the installation of the extension. Others might discover chrome-extension://ndgiipgjbobbpfaoceclhnckcagimhcn/html/newTab.html set as the New Tab. Different versions of the interface of this tool exist as well. In one version, only a search field and tools that convert documents are offered. In another version, easy access links to online retail sites and social networking sites are shown as well. Whether or not you find the extension to be useful, you need to be careful about how you interact with it. Every keyword you type in could be recorded, and if you disclose personal information, it could be recorded as well. The most unsettling part is that all information can be shared with parties we know nothing about. All we know – and this we know by analyzing the Privacy Policy – is that the PUP can show advertisements, and, unfortunately, they might be shown via the search engine. If you do not want your searches compromised, remove the PUP right away.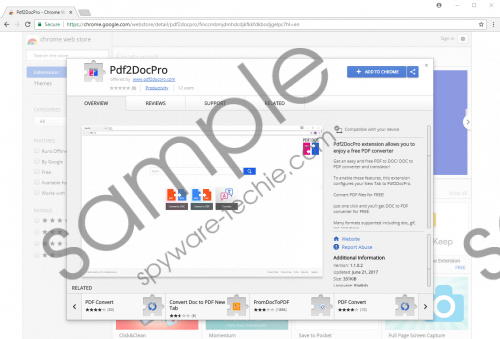 Pdf2DocPro screenshot
Scroll down for full removal instructions
It is not difficult to remove Pdf2DocPro because it is not a complex piece of software, and it does not try to hide itself. All you need to do is find the extension and get rid of it, and the guide below shows the easiest way to achieve that. Of course, it might also be a good idea to clear the browsing data to ensure that cookies that collect information are eliminated as well. Open the browser and tap Ctrl+Shift+Delete keys at the same time to open a menu where you can clear browsing data. Now, if the PUP is not the only unwanted piece on your system, it might be beneficial for you to install anti-malware software. It will automatically erase all threats, and it will keep the system protected thereafter.
Delete Pdf2DocPro from Google Chrome
Open the browser and tap keys Alt+F.
Click More tools to expand the menu and select Extensions.
Identify the unwanted extension and click the trash bin button.
Select Remove to eliminate the unwanted extension.
In non-techie terms:
Pdf2DocPro can be used to convert files, and it can offer easy-access links to beneficial sites. However, it also can record and leak information about you and your virtual activity. Also, it can show ads, and these are likely to be shown via the search engine. All in all, even if the PUP is not entirely useless, deleting it is recommended, and you need to choose your next step carefully. Do other threats exist? If they do, install an anti-malware program to ensure full removal and full protection. If you need only to remove Pdf2DocPro, and you do not care about virtual security, proceed manually. The guide available above shows how to erase the unwanted extension from Google Chrome.