Do you know what PCTechHotline is?
PCTechHotline is a potentially undesirable program, also known as PUP, which can be installed as a bundle program or which you can download from pctechhotline.com. The application, which has been published by Crawler LLC, is meant to help you access quick computer assistance related to technical issues and malware removal. As our virtual security researchers have discovered, the plugin is identical to 24x7help which is available at 24x7help.org. In order to delete PCTechHotline from the system, you may need to catch and remove a number of different files which are installed to aid the programs. These files include PCTechHotline.exe, PCTechHotlineSvc.exe, PCTHHook.exe and PCTHHook64.exe.
Even though in most cases PCTechHotline is installed from the official download page, in some cases it can be downloaded together with other applications. For example, the PUP could be packaged with the software installers related to SmartTweak. Overall, once installed, PCTechHotline presents the so-called PC Tech Hotline widget, and it appears that you can refuse this application during the installation of the program. The widget can be attached to the Task Bar at the bottom of the desktop and added as a bar on your web browsers. If you click the button of the widget, you are presented with a pop-up window asking to contact a specific number (e.g., +1 561-948-3761). Besides the promised assistance, this pop-up can promote various questionable security programs, including Spyware Terminator 2012, PCRx, Online Vault Backup and Safety Optimizer. We recommend trusting more reliable Windows security/malware removal software to detect potentially existing threats and to remove dangerous computer infections.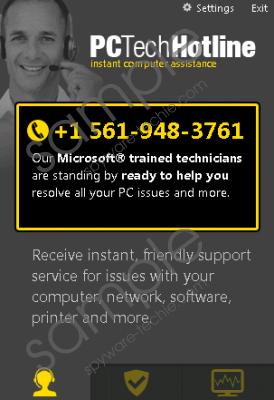 PCTechHotline screenshot
Scroll down for full removal instructions
Do you want to keep your operating system protected against malware? Then you need to install authentic and beneficial security software which could delete malware automatically. SpyHunter is a powerful, up-to-date anti-malware which can detect and delete potentially undesirable programs as well. Of course, you can remove PCTechHotline manually as well. Do you know how to perform this task? Use the manual removal guides if you are not too sure.
Remove PCTechHotline
Remove from Windows XP:
Open the Start menu. Click the Start icon on the Task Bar.
Select Control Panel and go to Add or Remove Programs to find the installed applications.
Find the undesirable program, click it and select Remove.
Remove from Windows Vista & Windows 7:
Open the Start menu from the Task Bar and select Control Panel.
Move to Uninstall a program. You will find all installed applications.
Right-click the program you wish to delete and select Uninstall.
Remove from Windows 8:
Right-click on the Metro UI menu screen. A pane will appear at the bottom of the screen.
Click All apps, open the Control Panel and move to Uninstall a program.
Right-click the application you wish to delete and click Uninstall.
In non-techie terms:
Even though PCTechHotline is not considered to be malware, it is a potentially undesirable program which you may want to remove from the Windows operating system. Is the removal process complicated? Not at all, and you can succeed using automatic malware removal software or by following the manual removal guides below. Needless to say, we recommend the first option because you should keep the computer safeguarded against all kinds of threats at all times.
Aliases: PC TechH otline.