Do you know what PCProtect is?
PCProtect is a suspicious security tool that claims to be "the Ultimate Anti Virus." We do not say the application is no good or malicious, but we do not think it is the best option either. Thus, if you are considering using it we highly recommend learning more about it before you come to the final decision. Firstly, you should know that because of the reasons we will discuss later in the text PCProtect was classified as a potentially unwanted program (PUP). Users should also be aware of the fact there might be two slightly different versions of it: the paid and the free variant. If you wish to know the differences between them, we encourage you to read the rest of this text. What's more, below the article you will find a removal guide showing how to delete this questionable tool manually, so if you decide to get rid of it, feel free to use the provided instructions.
The PUP has an official website called pcprotect.com. The site is not only the place where users can find the software's descriptions and End User License Agreement or Privacy Policy documents but also a place where you can download it. However, it is essential to mention the program offered there is a paid version of PCProtect, and while buying it, the user may have to reveal some of his personal information, such as user's full name, email address, credit card details, and so on. If you thought about submitting such details, we would advise you to be cautious. There are concerns for user's privacy because the application's Privacy Policy document mentions user's information could be shared with the application's third-party partners.
Talking about the PUP's free version, our researchers learned it could be distributed with bundled software installers. The most annoying part about the free version is that the user might often be reminded to purchase an upgraded version. Our researchers tested this version, and they noticed something strange about the offers to buy the upgraded one. One of it said the application's full price is €99 (around 117 US dollars) and offered a 50 percent discount with which PCProtect was available for €49. The strange part is that on pcprotect.com the full price is said to be €49 without mentioning any discounts. There is a chance the price on the add might have been enlarged to make the user think the PUP's value is bigger; and consequently, make the offer look more tempting and valuable.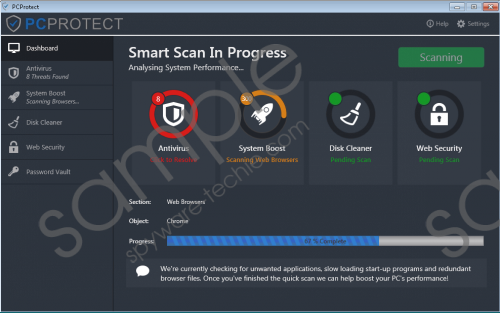 PCProtect screenshot
Scroll down for full removal instructions
Furthermore, the application's official website says it can work on devices running Windows, MAC, Android, and some other operating systems. Given some Apple devices have their own built-in native protection and Chromebooks do not even support anti-virus tools, we do not see how PCProtect could work on some of the devices it claims to be compatible with. Lastly, during the installation, our researchers noticed a couple of additional features suggested like "Enhanced Firewall" and "System Boost." The problem is the provided checkboxes appear to be fake, so it seems to be the user might not be allowed to choose if the mentioned additional features should or should not be installed.
All in all, we cannot say PCProtect does not do its job or that it poses any threat to the computer, but it seems to us the application could be promoted while using elements of false advertising. Therefore, we doubt this PUP is the best security tool there is, and if you think so too, we advise you not to waste any time with it. Users who decide to delete it should either follow the removal guide's steps located below the main text or get a reputable antimalware tool and erase it with automatic features.
Erase PCProtect
Windows XP/Windows Vista/Windows 7
Navigate to the Start menu.
Access the Control Panel.
Pick either Uninstall a program or Add or Remove Programs.
Click the suspicious application and select Uninstall.
Windows 8/Windows 10
Tap Windows key+R.
Insert Control Panel and press OK.
Choose Uninstall a program.
Select the unwanted program and press Uninstall.
Eliminate the PUP's extension for Google Chrome
Launch Google Chrome and press ALT+F.
Select Settings and click on More tools.
Pick Extensions and find PC Protect Web Shield.
Press the trash bin button near it.
Select Remove.
In non-techie terms:
PCProtect is a suspicious security tool and a potentially unwanted program that you may receive accidentally via bundled setup files or purchase on pcprotect.com. We did not notice any malicious behavior after we tested it in our internal lab, but we learned some of its provided ads could be using false advertising to make the application look more useful or valuable. Plus, using it may require revealing some of the user's personal data that apparently the software could later share with the third party. Under such circumstances, we believe users should think about using the PUP carefully, and if possible we would recommend looking for a more reliable tool.