Do you know what PCandMobileGames is?
PCandMobileGames is a program developed by Tuto4Pc. It can be downloaded from its official website pcandmobilegames.com, but it might also travel bundled with other applications and thus enter your system without your permission. The program looks really beneficial at first sight and it seems that it is aimed at those people who want to play games. PCandMobileGames application promises to find you the best games for your PC and mobile. In other words, it acts as a recommendation app. Our researchers have tested this program in the lab and noticed that it is not that useful after all. In fact, our specialists believe that you will only see various advertisements that can cause harm to your computer on the screen. If you have downloaded this program but found it useless or annoying, you can eliminate it from your system rather easily. All the necessary information will be provided for you further in this article.
The program is aimed at users who play games; however, it has definitely not been published for their benefit. Our researchers say that PCandMobileGames will really provide you with pop-ups and various offers associated with games; however, there is also no doubt that you will see coupons, and other kinds of ads depending on the websites you visit. Our specialists say that ads generated by PCandMobileGames might lead you to the websites that contain malicious software. In other words, you might heavily infect your system if you keep PCandMobileGames installed. This program will not only generate advertisements. According to our researchers, it might also record details about you and even connect to the Internet without your consent. In our opinion, it would be best that you erase this program. It is not as beneficial as it claims to be, so you will not regret doing that.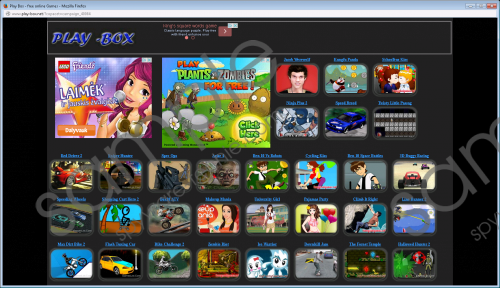 PCandMobileGames screenshot
Scroll down for full removal instructions
It seems that PCandMobileGames can be downloaded from its official website; however, we still think that this program can travel bundled with undesirable programs. They might hide on your computer and you might not even know about them. It is a must to check your system's condition if you feel that PCandMobileGames has appeared on your PC out of nowhere. There are plenty of useful scanners on the web and you can simply download the SpyHunter scanner from this web page. After the scan, you will know what kinds of threats are installed and you could decide whether to erase them yourself or leave this for an automatic scanner.
You should always be very cautious because there are hundreds of adware programs available. The majority of them say that they are very useful in order to convince users to download them. PCandMobileGames is no exception. You can find a similar but trustworthy program on the web, so delete PCandMobileGames without further consideration. Luckily, this program can be removed via Control Panel. Less experienced users should use our manual removal instructions (see below) for this matter.
How to erase PCandMobileGames
Windows XP
Click on the Start button and select Control Panel.
Click Add or Remove Programs.
Select the unwanted software and then click Remove.
Windows 7 and Vista
Open the Start menu.
Open Control Panel.
Click Uninstall a program.
Right-click on PCandMobileGames.
Uninstall it from the system.
Windows 8/Windows 8.1/Windows 10
Launch RUN and then enter Control Panel in the box.
Click Uninstall a program.
Locate the unwanted program and right-click on it.
Click the Uninstall button.
In non-techie terms:
It is not so easy to protect the system from malicious software. In fact, we do not think that you will be able to do that yourself. Therefore, we recommend installing an antimalware tool on the system. If you do that, you will not meet adware and other undesirable programs ever again. Do not forget that you must be careful on the web all the time too.