Do you know what PC Health Kit is?
If you wish to keep your operating Windows system healthy, you should not install PC Health Kit. Even though this program is advertised as an authentic and beneficial tool, the main objective behind it is your money. Of course, it may be unfair to state that the tool is 100% malicious because it can detect some system issues; however, it is possible that the program will do more harm than good if you continue using it. Our spyware researchers recommend that you delete PC Health Kit from the PC without further hesitations. If you still have questions or doubts – continue reading to learn how to delete the program and why its removal is important.
The suspicious program has been developed by PC Help Labs. Even though the application can be dropped onto your Windows system alongside freeware, you may also install it yourself from pchealthkit.com. Here it is stated that the application can scan your Windows system and identify different issues. In reality, the program does not work beneficially, and therefore, you should treat it as a fake system optimizer. Do not think that the application can prevent system crashes, increase speeds, disable privacy issues or remove files which do not serve you beneficially. If you do not remove PC Health Kit in time, the program may scan your computer and urge you to delete components which are necessary for the secure running of your Windows. Therefore, you should ignore such recommendations:
Attention!
There are [….] items to clean and optimize on your PC…
To immediately clean and optimize your PC you need to register PC Health Kit.
Even though the scanner works for free, you will not be able to fix any of the listed issues or remove files if you do not pay at least 29.99 USD. You should not waste your money or share such sensitive information as name, email address, postal code and credit card details. You should rather invest your money in real and useful software which could guard your personal Windows system and delete running infections. We recommend using SpyHunter as this program can remove PC Health Kit in no time. Alternatively, you can follow the manual removal guides below and then inspect the PC with a reliable spyware scanner.
Remove PC Health Kit
Remove from Windows 8:
Tap the Windows key to access the Metro UI start screen and right-click on the background.
Select All apps, open Control Panel and click Uninstall a program.
Now right-click the program you wish to remove and select Uninstall.
Remove from Windows Vista/Windows 7:
Click the Start menu icon and open Control Panel.
Select Uninstall a program and right-click the program you wish removed.
Click Uninstall.
Remove from Windows XP:
Open the Start menu.
Select Control Panel and click Uninstall a program.
To delete the fake optimizer right-click it and select Uninstall.
In non-techie terms: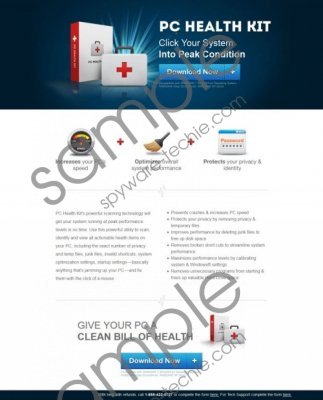 Pc Health Kit screenshot
Scroll down for full removal instructions
If you wish to keep your PC running smoothly, you definitely should not use PC Health Kit. It is more likely that this rogue system optimizer will do more harm than good, which is why you should not pay for its full version and remove it from the operating Windows system altogether. Follow the manual removal guides above or delete the application using automatic spyware removal software.
Aliases: PcHealthKit.