Do you know what Pc Health Aid is?
It is possible that Pc Health Aid might show users fake scanning results to convince them to purchase a full version of the application. However, we doubt the paid version would be any better than the one you can get for free. Moreover, you should know the tool is believed to be a potentially unwanted program. Plus, it seems to us it is rather similar to other suspicious PC optimizers we already discussed, for example, Win Tuneup Pro, Reg TuneUp, etc. Therefore, we would advise you to invest your money in more reliable software and erase the application from the computer. It might be advertised as a powerful PC optimizer, but as you will learn if you keep reading the article, the program might be useless. Users who do not want to keep such a questionable tool could slide below the main text and use the given removal guide to erase Pc Health Aid manually.
According to the potentially unwanted programs official web page (pchealthaid.com), it is "the best PC health tool on earth, " and it can help users "achieve maximum PC health." If you trust the given description, the application can accelerate the system's speed, stabilize its performance, and protect the user's data. Unfortunately, our researchers who tested the software themselves doubt it could be as useful as the description claims it to be.
Based on our experience with other similar potentially unwanted programs we believe the scanning results it displays could be fictitious since it only shows a number of found issues. Also, it is entirely possible that Pc Health Aid's detected errors could be nothing more than some Registry paths with missing data. In other words, the tool might be detecting leftover files of previously uninstalled software. Deleting such data might make the system cleaner, but it would not affect the computer's performance as drastically as the software's creators promise.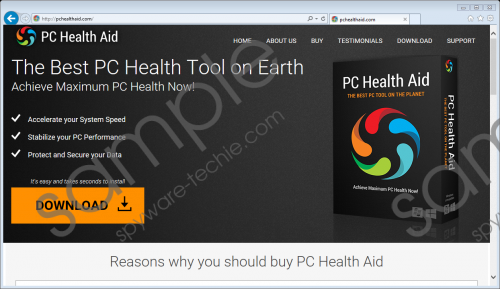 Pc Health Aid screenshot
Scroll down for full removal instructions
Furthermore, the application is available for a one-time payment of $29.95. In addition, users might be offered to purchase another questionable tool called Disk Tools Plus. The price is said to be $9.95, but unlike for Pc Health Aid it is not a one-time payment but a monthly subscription, so you may end up spending much more money than you realize. It is also strange that if you try to close the purchase window, you may get an offer to buy the potentially unwanted program for only half of its price when in reality you might actually get a 30-day trial version with a monthly subscription afterward.
Lastly, users should be aware that even though the application's installer is available on its official website, the tool could be still distributed through other channels. For example, it may travel bundled with other potentially unwanted software, adware, browser hijackers, suspicious extensions, and so on. Users often download such setup files from doubtful file-sharing sites offering freeware. For this reason, we would advise you to be more cautious while visiting such sites, although it might be best to avoid them at all. Another good idea would be to install a reliable antimalware tool since it could notify you about potentially malicious programs and other threats before they cause you any trouble.
All things considered, Pc Health Aid does not look like an application you could trust. If you decide not to keep it on the computer any longer we can help you remove it from the system manually; all you have to do is follow the removal guide placed below. The potentially unwanted program can be erased with a reputable antimalware tool too, so if you were already considering installing it, you could acquire it and use its scanning feature to delete the application automatically.
Delete Pc Health Aid from the system
Windows 8 & Windows 10
Press Win+R.
Type Control Panel and click OK.
Select Uninstall a program.
Locate Pc Health Aid and press Uninstall.
Windows Vista & Windows 7
Open the Start menu.
Choose Control Panel.
Pick Uninstall a program.
Select the potentially unwanted program.
Click Uninstall.
Windows XP
Go to Start.
Launch Control Panel.
Click Add or Remove Programs.
Mark the application and press Uninstall.
In non-techie terms:
Pc Health Aid is a suspicious PC optimizer that falls under the classification of potentially unwanted programs. Our specialists say the application's description could be exaggerated as it does not look like the tool could improve the computer's performance so dramatically. If you want to invest in software that could be useful to the system we would advise you to pick a more reliable program instead. Consequently, we urge you not to waste any time with this suspicious PC optimizer and eliminate it with no hesitation. If you are determined to get rid of it manually, you should take a look at the instructions placed above as they may prove to be useful.