Do you know what Payday Tool is?
Payday Tool is an adware application that is thought to be a potential computer security threat. The program employs third party advertising network to promote unfamiliar content, and it may also inadvertently reroute users to potentially dangerous websites. If you are a security-minded computer user, you will see to it that Payday Tool is removed from your system ASAP. If you do not remember installing this application, you should also scan your PC with the SpyHunter free scanner as we believe that the program may travel in software packages with other security threats.
You may ask why Payday Tool employs freeware bundling if it has a working homepage. True, you can download this application from paydaytool.com, where it is said up-front that with the application you can "find top payday loan lenders, browser payday options for free, and get information on payday loads from your desktop." That definitely sounds like a plan if you do require a loan, but there are no grounds that would allow you to trust this application, especially as it exposes you to a variety of un-reviewed third-party content.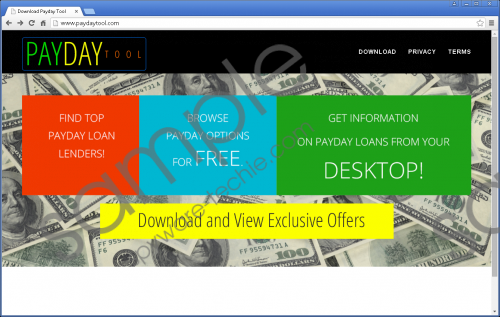 Payday Tool screenshot
Scroll down for full removal instructions
If users download Payday Tool from paydaytool.com, then we believe that the users had at least the slightest idea of where they were getting in. Nevertheless, even if you want to install this application, it does not mean it is okay to utilize it. What's more, if Payday Tool came bundled with freeware and you did not even want to have it in the first place, you have all the reason to delete it from your computer.
The most important thing is that you must not click any of the Payday Tool ads. This program will promote third-party content, and not all of that will be safe. On the top of that, you need be on the lookout for other potentially undesirable applications like Amigo, Sweet-page.com, MyPCBackUp, and others. During our tests we have found that the official installer for Payday Tool bundles these other programs as well, so even if you download the application from the official source, there is still a good chance that you will end up with a bunch of unwanted apps on your PC. That is, of course, if you breeze through the installation wizard without reading all the installation steps.
What's more, Payday Tool will not allow you to browse the web properly because the application is known to open new tabs and new browser windows at random. The new tabs lead to affiliated websites that offer various commercial services. We think that it is for the best to uninstall Payday Tool right now, instead of suffering the consequences of having this application a tad too long.
Once again, we would like to remind you that it is important to delete ALL the potential threats from your computer at once. If you do not know which programs could prove to be dangerous, invest in a reliable antispyware application to do the job for you.
In case anything goes wrong or you are in need of further assistance with the software removal, do not hesitate to contact us by leaving a comment below. Our team is always ready to help you.
Manual Payday Tool Removal
Windows 10 & Windows 8.1
Right-click the Windows icon and select Control Panel.
Go to Uninstall a program and remove Payday Tool.
Windows Vista & Windows 7
Open the Start menu and navigate to Control Panel.
Select Uninstall a program and remove Payday Tool.
Windows XP
Press the Start button and open Control Panel.
Go to Add or remove programs and uninstall Payday Tool.
In non-techie terms:
Payday Tool is an annoying application that spams you with potentially harmful content. The only thing this program wants is make easy money out of you. You have to remove Payday Tool immediately to avoid any further complications. If you require an alternative software removal method, there is a secondary set of instructions below this description. However, we always say that the most efficient wa to protect your PC from malware is staying away from unfamiliar sites.