Do you know what ParallaxSearch.com is?
ParallaxSearch.com is an unreliable search engine that can be set as your search engine on a new tab page when you install "Live Start Page - Living Wallpapers," which is a Google Chrome browser extension. However, this is not the only way this search engine may show up in your Chrome browser. Unfortunately, it is also possible that this extension comes in a software bundle that may be packed with malware infections. This way this search engine means multiple threats to you and your virtual security. Knowing what you might be up against can help you protect your computer and your privacy. That is why we are here to share with you what our researchers have found out about this malware infection and how it may pose a threat. If you want to feel safe while using your computer, we advise you to remove ParallaxSearch.com from your browser ASAP.
It is possible that you find livestartpage.com on the web while looking for browser extensions that provide you with live backgrounds in your Chrome browser. You can install this extension either through this website or from the Chrome web store. However, before you would rush to click on the "Add extension" button, we recommend that you read the pop-up carefully to understand what you agree with. This is what the confirmation window reveals about this extension, or what it may be able to do once you give it the green light: read and change your bookmarks, read and change your browsing history, manage your apps, extensions and themes. Only add an extension if you are perfectly fine with the possible changes it may perform. We do not recommend installing it though, as a matter of fact, we believe that your computer would be safer if you deleted ParallaxSearch.com right away.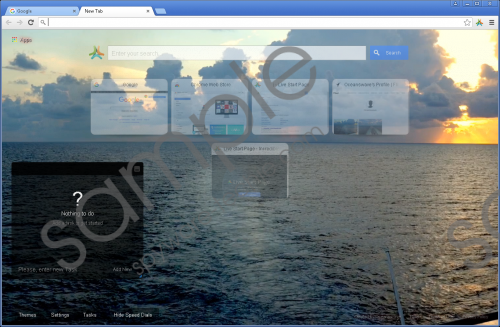 ParallaxSearch.com screenshot
Scroll down for full removal instructions
However, this is only the official way how this questionable search engine may appear in your browser. As we have already mentioned, it may also arrive in freeware bundles. That is really bad news because these bundles may hold several malware threats. The most problematic bundles can be downloaded from suspicious freeware sites and torrent sites. If you have visited such pages recently, there is a good chance that you clicked on a fake button or ad and that is how you infected your computer with a bunch of malware programs. What you may not know is that you can still opt out of installing the whole package if you carefully view all the steps of the installation wizard. Installers may be misleading since their aim is to deliver the whole package onto your system. But most of the time you can deselect the unwanted components. If you fail to do so, you will have to run a system malware scan after you remove ParallaxSearch.com to detect all possible threats.
We advise you to always use your preferred search engine or a reputable one, such as Google and Yahoo!. ParallaxSearch.com may be able to manipulate its results and include third-party links and ads. But these may be totally invisible to you; in other words, you may not be able to tell the difference between a normal and reliable result and one that might redirect you to a malicious website. This search engine generates revenue by routing web traffic to certain affiliated websites. Believe us when we say that most probably you are totally secondary for the developers. Your web search experience is not the focus here. This search engine may also be able to collect information about you, including your search queries, which can be used to target you with relevant links and ads. If you do not want to end up on questionable websites, we suggest that you delete ParallaxSearch.com from your browser.
Since this search engine may only affect your Chrome browser, you can simply remove it from the list of extensions in the Settings menu. If you do not know how to do that, please follow our instructions below. However, do not forget about the rest of the threats. Just because this infection only shows up in Chrome, the other malware programs may affect all the major browsers. Therefore, it is important that you protect your computer by removing all present dangers. We recommend using an up-to-date antimalware program that will effectively step up against all known infections.
Remove ParallaxSearch.com from your browser
Google Chrome
Tap Alt+F and open More Tools.
In the left panel, select Extensions.
Select the extension and click on the trash can icon on the right.
Click Remove.
In non-techie terms:
ParallaxSearch.com is a questionable search engine that you should not trust because it may provide you with unreliable and modified search results. That is not even the only way in which your computer may be threatened. This search engine may also come on board with other malware infections. Therefore, all your browsers may be affected by adware applications and browser hijackers. The best you can do is to remove ParallaxSearch.com from your browser. For the other possible threats you may want to use a reliable malware removal tool.