Do you know what Paradise Ransomware is?
Paradise Ransomware is a new dangerous threat that can put you through hell to be quite frank. This new malicious program can infiltrate your system behind your back and encrypt all your personal files, including your images, documents, and more. This could be the worst loss you have ever experienced in the virtual world. And, this is why it is important to protect yourself by saving backups from time to time. We do not advise you to contact these criminals or to send them any money. It is very unlikely that you could get your files decrypted. It is more likely that they would infect you with another serious threat or that you would simply never hear of them again. This is why we suggest that you remove Paradise Ransomware right away to protect your PC from further security issues.
Our researchers say that you must have opened a spam e-mail and viewed its attachment to be infected with this serious malware program. This spam may have a Word document or an image file attached. You may be led to believe that this file contains vital information about a pending issue, such as an unsettled fine, an unpaid invoice, a problematic hotel booking, wrong credit card details given, and so on. This spam may seem completely innocent and legitimate. So when you find it in your spam folder, you would definitely want to see it and you would consider it a mistake that it ended up there, which can also happen for real anyway.
If you are ever in doubt regarding an e-mail or its attachment, you should always send a mail to the sender to double-check. If it has come from a fake address, it would probably bounce back right away so you would know that you are better off not opening it. Do not believe that your spam filter can weed out all spam mails; in other words, do not take e-mails for granted because cyber crooks are very good at deceiving people. Remember that you cannot delete Paradise Ransomware without damage. Once you click to view the attachment in this spam, you initiate this vicious attack and you will not even know about it until it finishes.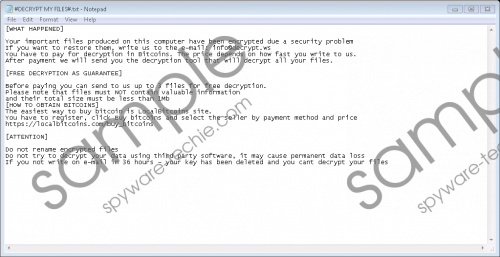 Paradise Ransomware screenshot
Scroll down for full removal instructions
Although we cannot confirm that this ransomware is spread any other way, we think that it is important that you mention other possible methods so that you can protect your files and your system better. It is important, for example, that you do not download free software and updates from questionable sources like suspicious torrent and freeware pages because these can infect you with malicious bundles. Such software packages can carry all kinds of malware threats, including Trojans, ransomware programs, and adware programs. If your PC is infected with adware, you may also be exposed to unsafe third-party advertising. Clicking on a fake downloader or updater pop-up may drop such a dangerous threat onto your system and before you know it, your files will have been encrypted. It is also essential that you keep your browsers and drivers always updated because cyber crooks can exploit older versions to drop such infections.
Once this ransomware encrypts a file, it changes its name to have an "id-3VwVCmhU.[info@decrypt.ws].paradise" ending that is appended to the original extension. After the encryption it also drops a text file named "#DECRYPT MY FILES#.txt" in every infected folder, which is the ransom note and contains instructions about the payment. According to this note, you have to write an e-mail and send it to "info@decrypt.ws" in which you can send up to three small and unimportant files so that your attackers can prove their ability to decode your files. You have 36 hours to send this mail or else, you can say goodbye to your files forever. We do not think that it is a good idea to try to contact these crooks because it is possible that they would infect you with more malware threats in a reply message. We have no information about the ransom fee amount but it can be anything from 100 dollars up to 2,000 dollars worth of Bitcoins. We believe that you should remove Paradise Ransomware right away to defend your system.
Fortunately, it is not that difficult to eliminate this threat since it simply uses the executable file you downloaded from the spam mail to operate. So all you need to do is identify that file and delete it from your system as well as all the ransom note files. Only then can you start transferring back your backed up files if you have any. Please use our guide below if you want to do this manually. You can always use a decent malware removal application like SpyHunter if you prefer automatic solutions.
Remove Paradise Ransomware from Windows
Tap Win+E.
Delete all suspicious files you have saved lately.
Delete the ransom note text files ("#DECRYPT MY FILES#.txt") from all affected folders.
Empty your Recycle Bin and reboot your system.
In non-techie terms:
Paradise Ransomware can be your next nightmare if it manages to sneak onto your PC because this ransomware can encrypt all your images and documents to extort money from you for the decryption tool. Unfortunately, our researchers have not been able to find a free tool to restore your files so it is more likely that you will have to say goodbye to your precious files unless you have a recent backup you could use to restore them. Do not get your hopes high just because these criminals promise to send you the decryption tool after you pay the ransom because there is little chance they will keep their word anyway. We believe that it is important that you remove Paradise Ransomware immediately after you realize its presence. If you want to defend your computer from similar shocks, we recommend that you start using a professional anti-malware program.