Do you know what Pagesnews.org is?
Pagesnews.org might seem like a novel thing for you, but our research team has found that it is identical to Youhomepage.org, Newcityinworld.ru, Mans-find.org, and several other adware servers that we have reported already. If you are specifically interested in any of these threats, enter its name into the search dialog box at the top, and you will find an article representing it. Needless to say, because these threats are identical, you can probably delete them using the same steps. Unfortunately, if you are introduced to any of these pages, there is little doubt that malicious components have been dropped onto your computer. The good news is that eliminating them is not too complicated. If you cannot wait to remove Pagesnews.org from your operating system, check out the guide below. If you want to learn more about this threat first, read the report that we have created after conducting a thorough research.
We classify Pagesnews.org as an adware server because it was created to expose you to suspicious content. Since it does not have an official installer, the components of this threat are likely to be downloaded bundled with other suspicious programs. It is possible that they will be malicious and unreliable as well. According to the research, in most cases, this threat comes packaged with Russian applications, which is not surprising, considering that it is clearly targeted at Russian-speaking users. It is strongly recommended that you scan your operating system as soon as you detect suspicious software or install unfamiliar software because you do not want to overlook malware. A reliable malware scanner will also warn you about Pagesnews.org because it can be a real threat to your virtual security. It was found that the threat is controlled using a scheduled task whose name should be representative of the adware server (e.g., "pagesnews.org/lions"). You can find scheduled tasks in WINDIR%\System32\Tasks folder. Our research team has analyzed the task, and it was found that it sets up Pagesnews.org to launch via the default browser every 33 minutes.
Every 33 minutes, Pagesnews.org will open up without authorization. Although this site represents a bunch of links to Russian news articles, it is most likely that you will be redirected to a different page every time. You could be exposed to advertisements, surveys, shopping deals, prize giveaways, and all kinds of offers. We do not recommend interacting with them because it is quite possible that you will be scammed. In the worst case, you will be tricked into downloading malware or disclosing personal information that could be used to impersonate you online. As a matter of fact, Pagesnews.org is so unpredictable that all kinds of scenarios are possible. The creator of the adware server works with undisclosed advertisers, and money is earned for every click that you make. Needless to say, it is unlikely that it matters what kind of content is presented to you as long as it leads to profit. You must realize by now that removing the components of this adware server is very important.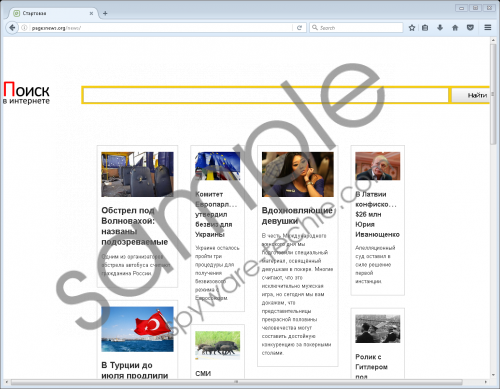 Pagesnews.org screenshot
Scroll down for full removal instructions
As we mentioned previously, deleting Pagesnews.org components is not complicated. Unfortunately, we do not fully know how this threat spreads, and so it is quite possible that you might need to eliminate various other applications and extensions linked to it. Scan your operating system using a legitimate malware scanner first, and you will find out quickly enough if and what kind of malware you need to eliminate. The guide below shows how to remove Pagesnews.org scheduled task, as well as how to reset browsers. We advise resetting them so as to eliminate all traces of the threat. You can also employ anti-malware software, and, considering that your PC is vulnerable, you should think about installing it even if you are able to eliminate all active threats manually.
Remove Pagesnews.org
Launch Explorer by tapping Win+E keys.
Enter %WINDIR%\System32\Tasks into the bar at the top.
Delete the task whose name represents the adware server (e.g., pagesnews.org/lions).
Reset the browsers as shown in the guide below and then restart the computer.
Reset Internet Explorer:
Launch the browser and tap keys Alt+T.
Select Internet options and then click the Advanced tab.
Click Reset, mark Delete personal settings, and then click Reset again. Click OK.
Reset Google Chrome:
Launch the browser, tap keys Alt+F, and choose Settings.
Click Show advanced settings at the bottom and then click Reset settings.
Click the Reset button for confirmation.
Reset Mozilla Firefox:
Launch the browser and tap keys Alt+H.
In the Help menu choose Troubleshooting Information.
Click the Refresh Firefox button and then confirm your decision.
In non-techie terms:
If you are redirected to Pagesnews.org every 33 minutes or so (the intervals could change), it is most likely that a scheduled task has been set up. You need to erase it and reset your browsers immediately if that happens because this activity could be used to introduce you to unreliable content, including suspicious advertisements. The adware server was set up to generate clicks, and so it is unlikely that the quality of the content matters more than the quantity. Unfortunately, that means that the most unreliable and useless ads could be shown to you. Use the instructions above to get rid of the threat or, better yet, install anti-malware software. It can automatically eliminate all malicious components and ensure full-time protection in the future.