Do you know what PadLock Screenlocker is?
PadLock Screenlocker is a type of Trojan that locks you out of your desktop. Technically, this program should demand that you purchase a key to unlock your computer, but at the moment it seems to be rather underdeveloped because there is no additional information out there that would tell you how to restore access to your desktop. What's more, it is possible to bypass the block as long as you know how to do it. We will show you how to remove PadLock Screenlocker from your computer and how to restore your desktop access.
We usually say that malicious programs do not need your permission to enter your computer, and Trojans are certainly one of the most cunning infections out there. However, when it comes to individual desktop infections, some action on user's part is still required. Our guess is that this Trojan spreads around through free software and fake software cracks. Free software is often hosted on file-sharing websites. If you need to download a particular application, it would be better if you did that from a licensed website. Downloading freeware from file-sharing sites is always risky because third-party installers often bundle several applications together, and you end up installing something you do not want.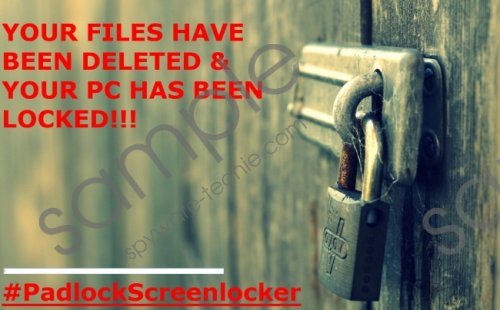 PadLock Screenlocker screenshot
Scroll down for full removal instructions
Also, if PadLock Screenlocker really came with a fake software crack file, then you should reconsider your priorities. Downloading and using illegal software is not only a criminal offence; you may encounter malicious infections that could seriously jeopardize your computer's security. Therefore, be responsible when you browse the web, and refer only to official websites for new applications.
When the PadLock Screenlocker program enters your computer, it will lock your screen at once. It will also create a Run registry key entry, and it will allow the application to run automatically whenever you turn on your computer. This means that restarting your system will not make the lock-up message disappear. And the message will say this:
YOUR FILES HAVE BEEN DELETED & YOUR PC HAS BEEN LOCKED!!!

#PadlockScreenlocker
The fact that the infection's name is presented with a hashtag in the message may mean that you could look for more information on the program in social media sites that employ hashtags. On the other hand, when a program claims that it has deleted all of your files, research is probably the last thing on your mind.
Do not panic. PadLock Screenlocker is not sophisticated enough to delete your files. The claim is simply there to push you into purchasing the unlock code, but, once again, it is not clear how the user should get it because there is no useful information on that in the message.
You get close the message by loading Task Manager. For that, you need to press the Ctrl+Shift+Esc keys simultaneously, and the system utility window will pop up. Also, our researchers say that you can unlock your screen with the following code:
ajVr/G\RJz0R
Users need to enter the code into the blank box above the #PadlockScreenlocker hashtag. Although please note that unlocking the screen with the code will not make the infection disappear. Thus, the next time you turn on your computer, the lock-screen message will be there again.
What can be done to make it disappear? Needless to say, you have to remove PadLock Screenlocker from your computer. You can find the removal instructions below our description, but if you think that manual removal is too much of a task for you, you can always rely on an automated security tool that would terminate the infection for you no questions asked.
What's more, by investing in a security application you would protect your computer from similar intruders that might barge into your system in the near future. It is not just about this Trojan, there could be several other unwanted programs installed on your computer, so you need to take care of them all.
Finally, be sure to employ safe web browsing habits, so that you would not have to deal with such pests again. Think twice before you download freeware, and do not download illegal software cracks because these files can always come with malware installers. PadLock Screenlocker might be just one of the less dangerous ones out there.
How to Delete PadLock Screenlocker
Copy and paste the ajVr/G\RJz0R code into the code box.
Press Enter to unlock your screen.\
If the code does not work, press Ctrl+Shif+Esc.
Open Task Manager and click the Processes tab.
Highlight and kill the malicious process.
Delete the recently downloaded file that launched the infection.
Press Win+R and the Run prompt will open.
Type regedit into the Open box and click OK.
Navigate to HKEY_CURRENT_USER\Software\Microsoft\Windows\CurrentVersion\Run.
Right-click and delete the Google Chrome value on the right.
In non-techie terms:
PadLock Screenlocker is an annoying infection that does not allow you to access your desktop. It was probably created to rip unsuspecting users off, but the Trojan seems to be underdeveloped because there is no way for users to purchase the unlock code. Not to mention that this program does not delete your files at all. So you should not fret and delete PadLock Screenlocker right now, preferably with a powerful security tool.