Do you know what PacFunction is?
PacFunction is a browser add-on that displays web banners, pop-ups, pop-unders, coupons and other types of advertisements. The application is available at pacfunction.info; moreover, it can be bundled with other programs, one of which is TornTV. PacFunction works on Internet Explorer, Mozilla Firefox and Google Chrome, and, if you want to remove the application from the browsers, bear in mind that it is not enough to disable it. Even if you uninstall PacFunction using the Windows Control Panel, some registry keys and files associated with the application remains within the system. Hence, you it is advisable to use a reputable spyware removal tool, and the sooner you implement one, the better.
Do not hesitate to remove PacFunction from the browsers because the application monitors your browsing behavior. It records your clicks, browsing history, IP address and information about advertisements you view. Moreover, it may record some information on your operating system and Internet browsers. All the data acquired from your browsers can be used for marketing and advertising purposes. If now you find only unrelated advertisements, it does not mean that PacFunction is not monitoring you. The application is supported by many advertising servers, whose function is to send you various ads. If you keep PacFunction on the computer for a long period of time, some targeted advertisements may be displayed in order to encourage you to browse websites that retail products that you are interested in.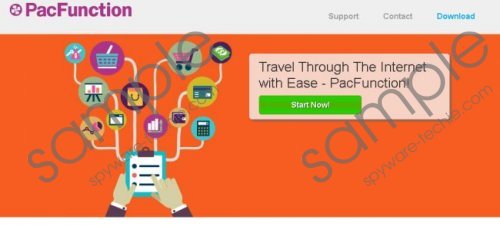 PacFunction screenshot
Scroll down for full removal instructions
You should also bear in mind that PacFunction may be employed by sly schemers to trick you into downloading unreliable programs. PacFunction does not control third party websites, which means that unreliable products may also be promoted. In order to prevent visits to questionable websites, remove PacFunction from the computer right now.
PacFunction is not the only adware program that can be acquired from a specialized website. There are tens of identical applications, including Outobox and Going Go, which are aimed at enhancing your browsing behavior. They, as well as PacFunction, can be distributed through bundled downloads, and if you want to prevent similar occurrences, not to mention more sever computer infections, you should not leave the computer without protection against malware after removing the adware program.
We recommend that you implement a powerful anti-spyware program. Use SpyHunter if you want to have PacFunction removed and the system protected. The recommended anti-spyware program will easily remove the adware program and make sure that you can browse the Internet safely.
How to remove PacFunction
Windows Vista and Windows 7
Open the Start menu.
Click Control Panel.
Select Uninstall a program.
Remove the unwanted application.
Windows XP
Click Start.
Select Control Panel.
Click Uninstall a program.
Remove the unwanted application.
Windows 8
Move the mouse to the lower-left corner of the screen.
Right-click.
Select Control Panel.
Click Uninstall a program and remove the unwanted application.
In non-techie terms:
Having finished the removal of the unwanted application, do not forget to scan the computer. Use the scanner available below, which will easily examine the system and provide you with quick scan results.
Aliases: Pac Function.