Do you know what Pabluk Locker Ransomware is?
Pabluk Locker Ransomware is a new ransomware infection recently detected by our team of researchers. Even though it has fallen into the category of ransomware, it differs from popular ransomware infections, including Spora Ransomware, Uncrypte Ransomware, and Erebus 2017 Ransomware, which are quite prevalent these days, in a sense that it does not encrypt documents, pictures, and other valuable files users keep on their computers. Instead of doing that, it immediately opens an annoying screen-locking window. This window will not allow users to access programs, files, and perform daily activities, e.g. surf the web. Actually, even if it were possible to access Desktop after the successful infiltration of this ransomware infection, it would still be impossible to open system utilities, e.g. Task Manager and important programs because this infection locks them all. Evidently, Pabluk Locker Ransomware is a harsh threat which blocks system files and programs, e.g. a security application so that it would not be quickly removed. Just like other malicious applications classified as ransomware, it seeks to convince users to pay money to get the screen unlocked. Unfortunately, many users make a decision to transfer money to unlock their screens and continue using their PCs normally. Do not be one of those users! Better go to delete Pabluk Locker Ransomware instead. It is a cheaper way to unlock Desktop.
Malware analysts are sure that Pabluk Locker Ransomware targets Polish-speaking users primarily because the message it contains is in Polish. Of course, users from the other side of the world might encounter this malicious application too. If it is inside the computer, a window in full-screen with a message will be opened on Desktop. Users are told that their computers have been fully blocked, and they can only unlock their screens by writing and email to pab.luk200@wp.pl or pab.luk500@gmail.com (these emails are only shown after clicking on a button located on a screen-locking window). Even though users are not told in advance that they will have to transfer money to cyber criminals, it is evident that it is the only way to unlock the screen because there is a box at the very bottom which requires a 9-digit code. This unlock code should be sent to users via email after they pay a certain amount of money cyber criminals require. According to our specialists, users should not send money to the author of Pabluk Locker Ransomware by any means because the screen can be unlocked by removing this malicious application from the computer. Also, it is better to take care of it manually too because there are no guarantees that malware will be erased and the screen unlocked after making a payment.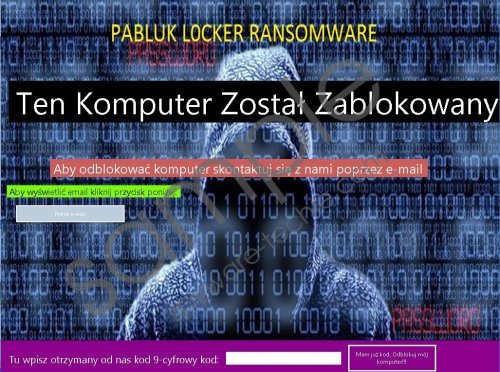 Pabluk Locker Ransomware screenshot
Scroll down for full removal instructions
Not much is known about the distribution of Pabluk Locker Ransomware, but, according to specialists, it is clear that this computer infection enters illegally. Of course, we do not say that users cannot contribute to the entrance of malicious software too. In most cases, people download malicious attachments from spam emails, download and install malicious software from the web, or just click on untrustworthy links. Ransomware infections might find a number of different ways to enter computers, so users need to be extremely cautious. Probably, you were not cautious at all if Pabluk Locker Ransomware is inside your PC now. Once this threat enters the system, it blocks the screen by placing a window with a message there and disables system utilities and certain applications, as you already know. Luckily, it does not place its executable files or make changes in the system registry like other similar threats do.
Since Pabluk Locker Ransomware blocks Desktop, system utilities, and programs that might help to erase it, users should boot into Safe Mode with Networking first and only then go to delete this ransomware infection. Follow the step-by-step instructions if you have never done that before. Once you boot into Safe Mode with Networking, you can also download a reputable malware remover, e.g. SpyHunter and delete all the existing threats from the computer with its help. Your only job will be simple – to launch the scanner.
Delete Pabluk Locker Ransomware
Boot into Safe Mode with Networking
Windows 7/Vista/XP
Restart the computer.
Start tapping the F8 button on your keyboard in 1-second intervals.
Select Safe Mode with Networking from the menu that shows up using arrow keys.
Press Enter.
Windows 8/8.1/
Reboot your PC.
Hold the Shift key at the Windows login screen, click Power, and then click Restart.
Click Troubleshoot and select Advanced options.
Click Startup Settings.
Click on the Restart button.
Press the F5 button on your keyboard to enable Safe Mode with Networking.
Windows 10
Restart the computer.
Hold the Shift key while selecting Power.
Select Restart.
From the Choose an option screen go to Troubleshoot.
Select Advanced options.
Click Startup Settings.
Click on the Restart button.
Press F5.
Remove the ransomware infection
Open the Windows Explorer (Win+E).
Check the following directories one after the other to find the malicious file: %TEMP%, %APPDATA%, %USERPROFILE%\Downloads, and %USERPROFILE%\Desktop.
Delete it.
Restart the computer in a normal mode.
In non-techie terms:
Security specialists highly recommend those users who have erased Pabluk Locker Ransomware in a manual way going to scan their PCs with an automatic scanner too because there might be dangerous threats still active and performing activities on the computer. The presence of these infections might result in the entrance of another ransomware infection or other security-related problems, so it is a must to make them all gone ASAP.