Do you know what Outrageous Deal is?
Outrageous Deal is a program which you should delete the same moment it enters your system. The main reason why it is so important to do that is the fact that Outrageous Deal is an advertising-supported application (adware) that is going to bombard your screen with all kinds of commercial advertisements. You will see them if you use Mozilla Firefox or Internet Explorer browsers. Advertisements generated by Outrageous Deal are not really very annoying (they appear on different web pages without prior notice), but they might also expose you to threats. Specialists say that this might happen rather quickly, so the best would be to delete Outrageous Deal from your system. As this program does not do anything beneficial, even though it says that "you'll be blown away by what you'll find with Outrageous Deal," we hope that you will delete it without mercy.
Outrageous Deal is a new member of the family that is comprised of Blazer Deals, Jungle Net, Sale Charger, Assist Point, Positive Finds, and High Stairs. Like previously published applications, Outrageous Deal will show ads and collect information about users. In our opinion, you should not keep a program that will not do anything beneficial. We have tested this adware program in our internal lab and now we know that it generates and shows all kinds of commercial ads because it receives money from pay-per-click web pages. All those pop-ups, coupons, and other kinds of ads are not very reliable. In fact, our researchers have revealed that they might even redirect users to unreliable third-party web pages. As Outrageous Deal is not closely associated with them, it definitely does not care about users' safety and does not monitor these web pages, so there is a possibility of ending up on the website full of malicious software.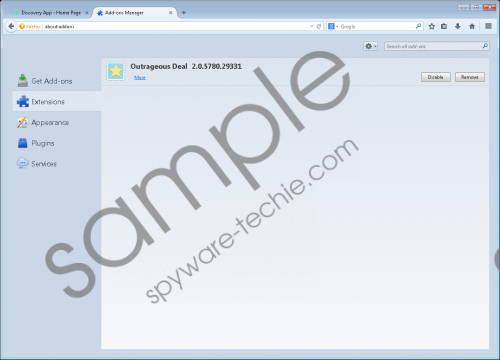 Outrageous Deal screenshot
Scroll down for full removal instructions
We are sure that Outrageous Deal has entered your system in a bundle with other programs because it is impossible to download it from its official website. Unfortunately, there is a slight possibility that this program has entered your system together with several unreliable programs. We do not know exactly which programs have been installed, but there is a possibility that potentially unwanted programs, adware, and even browser hijackers have managed to sneak onto your PC. You can find out whether this is true by scanning your system with the SpyHunter diagnostic tool. It can be downloaded from this web page.
If you do not want to see advertisements on your screen anymore, we suggest that you remove Outrageous Deal right now. It is not a very difficult task, because this program can be erased via Control Panel. Of course, you will have to take care of the programs that have entered together with it separately.
Delete Outrageous Deal
Windows XP
Click the Start button.
Select Control Panel.
Click Add or Remove Programs.
Select the program and click Remove.
Windows 7 and Vista
Open the Start menu.
Select Control Panel and click Uninstall a program.
Right-click on Outrageous Deal.
Click Uninstall.
Windows 8/8.l/10
Launch RUN and then enter Control Panel.
Click Uninstall a program.
Select the undesirable software.
Click the Uninstall button.
In non-techie terms:
As there are hundreds or even thousands of unreliable programs on the web, we suggest that you do everything it takes to protect the system from them. The quickest way to take care of your system is to install a reputable security tool, such as SpyHunter, and keep it enabled. Do not forget that you have to upgrade the tool first.