Do you know what OurWorld Toolbar is?
OurWorld Toolbar, or OurWorld.com Community Toolbar is a browser extension from the infamous Conduit family. Even though this particular plug-in has taken the aggressive approach down by a notch or a few, this extension still should not be trusted. This time, the developers are trying to gain profit using a slightly different attitude. They have created a virtual game called "OurWorld", which is most likely supposed to lure users in using the toolbar. However, anything produced by Conduit is not trustworthy and so it would be a good idea to remove OurWorld Toolbar.
The toolbar is available for download at ourworld.com.ourtoolbar.com, and it is the most probable that you have chosen to install it. Upon installation, the program asks whether you would like your default search and home page set to Conduit Search and the boxes are not pre-checked, so it is highly unlikely to install that unknowingly. It is also plausible that this toolbar travels as a drive-by download.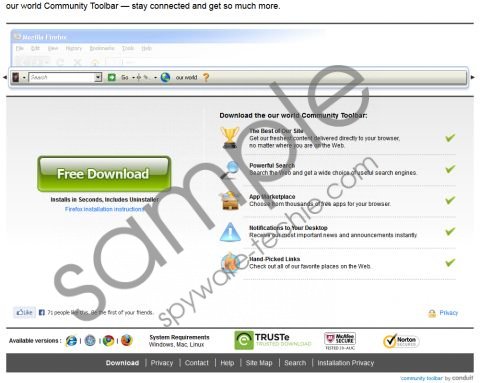 OurWorld Toolbar screenshot
Scroll down for full removal instructions
The installed toolbar has a lot of different functions: search, Facebook, Twitter, music, weather, and a variety of games. The first noticeable thing is the decreased speed of the browser; however, not much else may change. What is really alarming and suggest the need to delete OurWorld Toolbar is the shady privacy policy. Please see the excerpts:
<…> These Cookies collect and store information about your search activity when you use our web search services. This information may be shared with third party applications <…>.

The information collected and stored by these Cookies may include Personally Identifiable Information <…>.

In the event Conduit goes through a business transition <…> your information may be among the assets transferred. <…>

Some of these tools may give these third parties the ability to access, collect store and/or share your information <…>.
Plus, the extension's permissions state:
Current Permissions

OurWorld.com

It can:

All data on your computer and the websites that you visit.
Quite obviously, the privacy issues are alarming enough to keep you from believing this is a genuine extension. Fortunately though, the more passive-aggressive approach means that it is not so complicated to remove OurWorld Toolbar as the other products by the same developers. After successfully doing that, it would still be a good call to scan your computer in case it caught any infections from all the third parties associated.
OurWorld Toolbar Removal Guide:
Internet Explorer:
Click Alt+T.
Select Manage Add-ons.
Under Toolbars and Extensions, select and delete OurWorld.
Mozilla Firefox:
Press Ctrl+Shift+A.
In Extensions, Disable and Remove OurWorld.
Restart your browser.
Google Chrome:
Press Alt+F.
Click Settings.
Select Extensions on the left.
Click the bin icon on the right of OurWorld to delete it.
In non-techie terms: OurWorld Toolbar is a browser extension from the infamous Conduit. It does not seem to be harmful by itself, however, its privacy policy is more than shady and unethical and the third parties associated can lead to severe infections. It is advisable to eliminate the toolbar.
Aliases: Our World Toolbar.