Do you know what Ooxxsearch.com is?
Ooxxsearch.com is a browser hijacker, and it means that this program will change your browser settings without your permission. The main reason this infection enters your computer is money, but there is no need to panic just yet. This program cannot log your keystrokes because it is not a Trojan, and without your participation it would not be able to cause any harm. The problem is that users quite often unwittingly allow such applications to find out quite too much about them. Before any of that happens, it is your job to remove Ooxxsearch.com from your computer as soon as possible.
You might say that you did not notice how this infection slithered into your system, but the point is that it is highly possible that you allowed Ooxxsearch.com to enter your computer without even realizing it. How can that happen? Naturally, no user would want malicious programs to enter their system, but with browser hijackers and potentially unwanted programs, it might be hard to pinpoint the actual moment of intrusion. That is so because these programs seldom have on distribution method and infection source. It is far more common for these programs to come bundled with freeware applications that are widely available for download at file-sharing websites.
Is there a way to protect your computer from such infections? It would be possible to avoid them if you avoided downloading programs from unfamiliar web pages. What's more, you should be attentive during the installation process because quite often setup wizards allow users to choose whether they want additional programs installed or not. Unfortunately, users tend to skip through the installation to get to the Finish line as fast as possible. As a result, they end up installing multiple programs they neither need nor want. Consequently, Ooxxsearch.com might be one of them.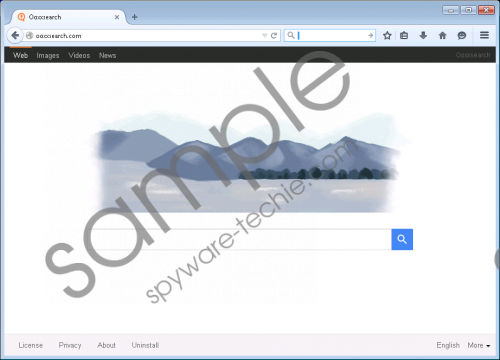 Ooxxsearch.com screenshot
Scroll down for full removal instructions
Albeit the search engine used by this hijacker looks reliable, the same could have been said about Universalsearches.com, Search2000s.com, Didisearch.com, and so on. All these programs come from the same source. Our researchers say that they have been created by the ELEX hijacker creator, and all of these infections are located at the same IP address. The address is 104.25.216.18, and the geographic location of the Internet service provider in the United States. Nevertheless, this does not mean that the people who created this infection are located in the US. The Cloudflare Inc. is only a company that provides content delivery network services for third parties.
Computer security specialists suggest that this browser hijacker most often comes in a software package with Picexa and FVP Image Viewer. Both of which are potentially unwanted programs that might also be related to particular computer security issues. This also means that when you remove Ooxxsearch.com from your computer, you should also scan for other potential threats that might be residing in your system. If you are not sure you could locate all the dangerous programs by yourself, you should scan your PC with the SpyHunter free scanner.
Why is it important to delete this browser hijacker? The problem is that this program thrives on third party advertising, and it generates financial profit by exposing you to unreliable content. Truth be told, Ooxxsearch.com does not try to infect you with malware, but the hijacker is a vehicle that could be easily exploited by cyber criminals for malicious content distribution. For instance, search results provided by this hijacker could be full of outgoing links that lead you to corrupted web pages. This could eventually result in malware infection, financial fraud, and even an ultimate computer crash. That is why it is important to consider all the potential risks behind keeping an unfamiliar search provider on your computer.
Please scroll down to the bottom of this article for the manual removal instructions and get rid of Ooxxsearch.com for good. Should you encounter any difficulties while trying to get rid of this infection, do not hesitate to leave us a comment. Our team will reply as soon as possible. Also, do not forget to invest in a legitimate antispyware application that will protect your PC from similar infections in the future. You need real-time protection to be sure that no other intruder enters your system again. Finally, stay away from unfamiliar websites, and download software only from the official vendor's web page.
How to Remove Ooxxsearch.com
Internet Explorer
Press Win+R and the Run prompt will open.
Type regedit into the Open box and click OK.
Go to HKEY_CURRENT_USER\Software\Microsoft\Internet Explorer\Main.
Right-click the Start Page entry on the right pane.
Select Modify and delete Search2000s.com.
Type in a new homepage and click OK.
Firefox
Press Win+R and enter %AppData% into the Open box.
Press Enter and open Roaming.
Go to Mozilla and double-click Firefox.
Open Profiles and go to the unique Mozilla user ID folder.
Open the prefs.js file with Notepad.
Delete the user_pref("browser.startup.homepage", "http://Search2000s.com/"); string.
Close the file.
Chrome
Press Win+R and type %AppData%.
Click OK and go to the Local folder.
Open Google and select Chrome.
Open the User Data folder and double-click Default.
Delete the Preferences, Secure Preferences, and Web Data files.
In non-techie terms:
Ooxxsearch.com looks like a decent search engine, but this program is a browser hijacker that will change your homepage and search engine settings one-sidedly. This dangerous infection can expose you to other malicious threats, and if you fail to remove the hijacker from your computer immediately, you will soon have to deal with Trojans, Ransomware applications, rogues, and other terrible intruders. Please follow our instructions to get rid of Ooxxsearch.com, and if you need any assistance with that, do leave us a comment.