Do you know what Oopslocker Ransomware is?
Oopslocker Ransomware is yet another malware that should never be active on your personal computer. Just like any other ransomware application, this one is fully capable of incredibly malicious functionality. Upon entering your operating system, it can encrypt large quantities of your data within a few moments. Once files are affected, users have no way to access them or use them in any manner. What developers of ransomware programs do is demand huge ransoms in return for decryption services; thus, making immense illegal profits from unsuspecting Internet users. In this report, we provide thorough advice regarding virtual security, which will allow you to maintain a fully secure operating system at all times. Also, we include precise information about the intricate inner workings of Oopslocker Ransomware along with its comprehensive removal guide that will help you delete it without encountering any major problems.
The operations executed by Oopslocker Ransomware are noticeably conventional, and that is not a surprise. Due to the immense popularity of ransomware programs these days, a lot of them use the same basic principles to function. This is a conscious decision made by the developers of such applications since it is the least difficult way to construct a program that provides a quick yet illegal way to profit. Right after successfully entering your operating system this malware does not waste any time. It creates a folder an implements four malicious files. It then identifies the contents of the affected hard drive and immediately starts the encryption procedure, which is quick and completely silent so very few users, if any at all, can notice and stop this malicious program before it has done any harm. During our analysis, it has been discovered that this ransomware does not target files located in the %WINDIR% folder, which means that your operating system's functionality is not in danger. Other data that is affected by this malware is encrypted using a mixture of strong algorithms known as AES and RSA. This eliminates the possibility of manual decryption. Each locked filled receives an additional .oops extension. Like any other program of this category, it presents the ransom note right after your data is locked. You are asked to send 0.1 Bitcoin to a specific address if you wish to regain access to your files once again. Our researchers advise you to refrain from doing so since it could turn out to be a hoax as cyber criminals are not bound legally to unlock the encrypted data even if the payment is made. Your best bet to regain access to your files is by using a backup image, provided you have one or trying to use shadow copies. It goes without saying that a complete removal of Oopslocker Ransomware is a must and should not be delayed under any circumstances.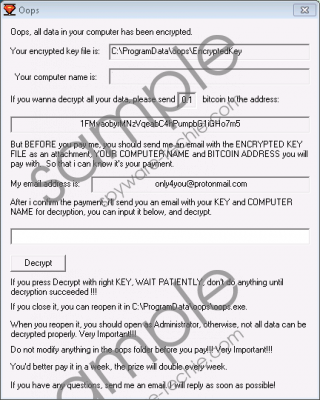 Oopslocker Ransomware screenshot
Scroll down for full removal instructions
Virtual security should be the utmost priority of any Internet user, especially nowadays since there are vast amounts of devious and otherwise dangerous applications roaming the web. First of all, it is critical to understand the value of safe browsing habits. In the majority of cases, users come across and even infect their PC with dangerous software due to reckless online activities. Thus, researchers at Spyware-Techie.com highly advise you to refrain from all questionable third-party download web pages because they tend to present bundled installers. Such setup files are often used by malware developers to spread their devious software. Additionally, we urge you to always learn as much as you can about any program before even downloading it because cyber crooks tend to employ hoax marketing tactics to fool unsuspecting Internet users into downloading their malicious programs. Furthermore, you must avoid all suspicious e-mail attachments that are sent by unknown sources as it could be a part of a spam e-mail campaign, which malware developers use to spread their intrusive product on a large scale. Finally, be sure to obtain and install a professional antimalware tool if you do not have one already. Such a tool is the most important part of your virtual security because it can warn you in advance about any virtual threat as well as it can terminate the threat immediately in an automatic manner.
Use the detailed instructions that we present below to delete Oopslocker Ransomware once and for all. Keep in mind that you must pay your utmost attention to every single step of the removal procedure because a single mistake could lead to an incomplete removal. That is a situation that you do not want to find yourself in because traces of Oopslocker Ransomware could be more than enough for it to continue its malicious functionality. In other instances, those same leftovers might be employed to restore this ransomware silently. To be sure that the termination of Oopslocker Ransomware has been successful you must double-check your PC for any questionable traces that could be linked to the malware in question. Such analysis must be executed as soon as you are done with the manual removal instructions.
How to remove Oopslocker Ransomware from your PC
Right-click your Task Bar and select Start Task Manager.
Click the Processes tab.
Select a malicious process and click End Process. Note that the name of this process could be randomized.
Open your File Explorer.
Go to C:\ProgramData.
Select a malicious folder called oops and tap Delete on your keyboard.
Right-click your Recycle Bin and the select Empty Recycle Bin.
In none-techie terms:
Malware researchers at our internal labs are well aware that some users find manual removal too complicated. If you happen to be one of those users, do not worry. We present an alternative removal guide below, which will help you delete Oopslocker Ransomware in an automated manner.