Do you know what Only-news.org is?
If you have noticed your default browser popping up from time to time with promotional pages or being redirected to such sites seemingly randomly, you may be the victim of Only-news.org. Our researchers say that this is a Russian news portal; at least, that is your first impression if you land directly on this questionable page. However, after careful inspection in our internal lab, our researchers have found that this is indeed an adware server. In fact, this server is an identical clone of dozens of previous ones, including Browser-net.org, Good-journal.net, and Bossnews.biz. These adware servers can also behave like browser hijackers and show up in your browsers due to setting changes. In fact, this adware server also creates scheduled tasks to make sure that in every hour or so a browser window appears with a chosen promoted content. The redirections of this server are not only very annoying and distracting, but they can also put your virtual security at risk. We advise you to remove Only-news.org from your computer as soon as possible to stop the potential further infection of your PC or not be become the next victim of an online scam. Please continue reading our report if you want to find out how you can protect your computer from similar attacks.
In order for you to be presented with a questionable third-party site or advertisement promoted by this adware server, you need to be redirected to it with a certain code at the end of the URL address. This code represents an ID according to which the server knows where to redirect you. Therefore, there are two ways for you to end up there and being haunted by this threat. First, it is quite likely that your computer is infected with at least one adware program if you keep seeing an increased number of third-party banner and pop-up ads while you are online. But there can be other types of infections that could be capable of redirection, for example browser hijackers and potentially unwanted programs as well. But even if your system is clean, it is possible that you have downloaded a free software bundle recently that may have contained adware programs and other threats. If you want to avoid this type of infection, we suggest that you not visit suspicious websites filled with all kinds of annoying third-party ads and that you refrain from downloading free programs from suspicious sources as well. If you want to be certain that your computer is clean and safe to use, we recommend that after you delete Only-news.org from your system, you also run an online malware scanner to detect all possible threat sources on your computer.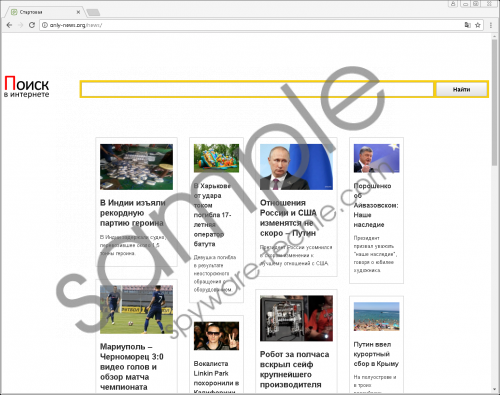 Only-news.org screenshot
Scroll down for full removal instructions
Although it may look like an innocent news page, this Russian adware server could pose a real threat to your system security since it may redirect you to potentially unsafe third-party websites. Since this threat creates scheduled tasks on your system, it is possible that you will see automatically opening browser windows from time to time with unfamiliar websites. It is possible that you may find some of these relating to you and you may want to engage with the content. But we advise you against it since you cannot trust the affiliates of this site; or, at least, you cannot take them all for granted. Some may scam you into buying products that you do not even need or software that may not even work. Some may try to steal your personal and banking details to drain your bank account or to commit online frauds using your personal information. We believe that your online life just got unsafe the moment this threat appeared on your computer. The news articles on this site look like they were copied from other websites just to provide a fake content page. You should not use the search engine either because you could end up on manipulated search results pages containing questionable ads and links. All in all, you should not hesitate to remove Only-news.org from your system to save yourself future headaches.
If you want to make sure that this adware server does not surprise you again with an unexpected browser window launch, you should remove all the possible tasks from your system. As the next step, you can reset all your browsers so that all possibly related browser extensions or setting changes disappear. If you feel up to the task, you can use our guide below to put an end to this threat manually. However, if you would prefer a more comfortable solution, we advise you to install a trustworthy malware removal program like SpyHunter.
Remove suspicious scheduled tasks
Press Win+R and type regedit. Click OK.
Delete the value names from these registry keys that may be related:
HKEY_CURRENT_USER\Software\Microsoft\Windows\CurrentVersion\Run\
HKEY_CURRENT_USER\Software\Microsoft\Windows\CurrentVersion\RunOnce\
Exit the editor.
Press Win+E.
Open the %WINDIR%\Tasks and %WINDIR%\System32\Tasks folders.
Delete the task that may be related.
Empty your Recycle bin.
Press Ctrl+Shift+Esc to open the Task Manager.
Select the Start-up tab and choose the malicious program from the list.
Press Disable.
Exit the Task Manager.
How to reset your browsers
Internet Explorer
Press Alt+T to open the Tools menu.
Navigate to Internet Options.
Choose the Advanced tab and click the Reset button.
Mark the Delete personal settings checkbox.
Click Reset.
Click Close.
Google Chrome
Press Alt+F to display the menu.
Select Settings.
Scroll down and click Advanced.
Scroll down and click Reset.
Click the Reset button on the pop-up.
Mozilla Firefox
Press Alt+H to open the Help menu.
Select Troubleshooting Information.
Press Refresh Firefox and in the pop-up, press Refresh Firefox again.
In non-techie terms:
Only-news.org is a potentially harmful adware server that can redirect you to questionable promoted third-party websites. You could be introduced to advertising through this server when you click on questionable third-party content while surfing the web or when your PC is infected with adware or other malware threats that are capable of redirecting you to such pages. If your computer is really infected with such malicious programs, it is quite possible that you will find a couple more that may have entered your system in the very same bundle. If you do not want to be exposed to potential threat sources through this adware server, we recommend that you act right away and remove Only-news.org from your system. If you do not feel skilled enough to protect your PC from similar malicious attacks, we suggest that your employ a professional anti-malware program as soon as possible.