Do you know what OnlineRouteFinder Toolbar is?
OnlineRouteFinder Toolbar is a piece of software which is promoted on and can be downloaded from onlineroutefinder.com/index.jhtml. It is a new product of Mindspark Interactive Network, Inc, so even though it promises to enable users to get maps and directions with the click of a button, it cannot be trusted fully because it is known to be a potentially unwanted program, or a PUP. Our experienced specialists have decided to classify this program as a potentially unwanted application because it is not as useful as it claims to be on its official website. It really enables users to access maps, weather forecasts, gas prices, and other popular pages, including Facebook, Instagram, and Amazon, but, of course, it does not mean that users could not open these web pages without the help of OnlineRouteFinder Toolbar. Of course, it has been given the name of a potentially unwanted program not because of this. Read what specialists have to say about this piece of software and make the final decision yourself. If you decide to remove it, do this without consideration because other fully reliable programs for travelers exist and you will definitely not regret getting rid of this Mindspark product.
Many users get disappointed with OnlineRouteFinder Toolbar because they usually do not know that their browsers' settings will be changed. Once they install this piece of software from its official website or it enters their computers using some kind of alternative, not so legal, method, they immediately notice a new page set as their homepage and New Tab pages. This page looks like an ordinary search tool with quick-access buttons at the top and in the middle. They all lead to well-known pages. At the bottom of the page, users can also receive information on how to get from point A to point B. The search box of search.myway.com works quite well too. It has been found that it is powered by the modified Google search engine. This, unfortunately, suggests that users might be provided with the modified search results too. For example, search results might be modified to open third-party pages which have nothing to do with entered search queries. Some companies provide users with these sponsored search results to get the so-called pay-per-click revenue. Be careful if you use the search box located on the page set by OnlineRouteFinder Toolbar.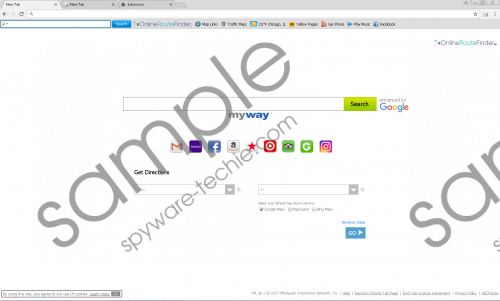 OnlineRouteFinder Toolbar screenshot
Scroll down for full removal instructions
Users who are still considering whether or not OnlineRouteFinder Toolbar should stay on their PCs should also be aware of the fact that it collects several different types of information about users. First of all, it records information users provide themselves. Second, it captures certain details like IP address, browser type and language, and similar non-personally identifiable information automatically. Finally, it is indicated in the Privacy Policy document of OnlineRouteFinder Toolbar that third parties, e.g. third-party websites users are redirected to after clicking on these easy-access buttons they see might also record information about users too.
Products developed by Mindspark Interactive Network, Inc. usually fall into the category of potentially unwanted applications because not all the users who find these programs on their PCs download and install them willingly. Some users say that they have not downloaded OnlineRouteFinder Toolbar from its official website too, which suggests that the bundling method might be used to spread this software. In most cases, potentially unwanted programs do not arrive alone on computers. They tend to travel with free applications or other programs. They are not necessarily trustworthy, so users who feel that OnlineRouteFinder Toolbar has been installed on their PCs without their knowledge should perform the full system scan to find out what additional applications have been installed alongside.
If, for any reason, you do not like OnlineRouteFinder Toolbar or simply have not found it a useful application, you should go to delete it today. Internet Explorer users can erase this piece of software through Control Panel like a normal application. In the case of Mozilla Firefox and Google Chrome users, they need to erase the extension of OnlineRouteFinder Toolbar from their browsers. Below-provided removal instructions should help you to do that, but if it happens that you cannot erase this program manually, use an automatic malware remover, e.g. SpyHunter.
Delete OnlineRouteFinder Toolbar
Internet Explorer
Windows XP
Click Start to open the menu and open Control Panel.
Click Add or Remove Programs.
Find the undesirable program and select it.
Click Remove.
Windows 7/Vista
Click on the Windows button in the bottom-left corner.
Click Control Panel and open Uninstall a program.
Right-click on the program you want to erase and click Uninstall.
Windows 8/8.1/10
Press Win+X simultaneously.
Click Control Panel and open Uninstall a program.
Delete the undesirable program (right-click on it and select Uninstall).
Mozilla Firefox
Launch Mozilla Firefox and press Ctrl+Shift+A.
Click Extensions.
Select the one you wish to erase and click Remove.
Google Chrome
Open Google Chrome.
Click on the menu button at the top and click More tools.
Open Extensions.
Select the extension from the list.
Click the trash button next to it and then click Remove in the confirmation window.
In non-techie terms:
The removal of OnlineRouteFinder Toolbar does not necessarily mean that there are no other computer infections hiding on your PC. Some threats are very sneaky and hide themselves well, so you might not even know that you have undesirable software installed on your PC. To find out the truth, perform the full system scan with an automatic scanner. All infections, if there are any, will be detected promptly.