Do you know what OnlineFormFinder Toolbar is?
OnlineFormFinder Toolbar is classified as a potentially unwanted program (PUP). It means that the application is not a dangerous computer infection, but it could be associated with particular security issues you should not ignore. If, by any chance, you happen to have this extension on your browser, it is strongly recommended that you remove OnlineFormFinder Toolbar from your computer and then perform a full system scan with the SpyHunter free scanner. It is necessary to check your system for other potentially unwanted apps, and then protect it from potential third-party exploitations.
Why is OnlineFormFinder Toolbar there on your computer? You must have downloaded it together with some freeware application from a file-sharing page. Have you been looking for some app lately? Have you downloaded a new program recently? If so, the program must have come with a third-party installer that usually bundles several applications together. Normally, it is possible to avoid installing unfamiliar programs if you go through the setup step by step. Unfortunately, users tend to breeze through those steps because they want to be done with the installation as soon as possible. Eventually, OnlineFormFinder Toolbar and other unfamiliar applications end up getting installed on the target system.
In some cases, users may think that this program is a dangerous browser hijacker because it modifies browser settings, too. Upon the installation, this program will change the default homepage and the new tab settings. However, once again, TECHNICALLY, users allow OnlineFormFinder Toolbar to be installed on their computers, so it would be hard to claim that this program hijacks the browser behind user's back. It is all about reading the terms and conditions, and we know that these days users seldom do that. What's more, this program has an official homepage, so it is not possible to say that it is a malicious infection.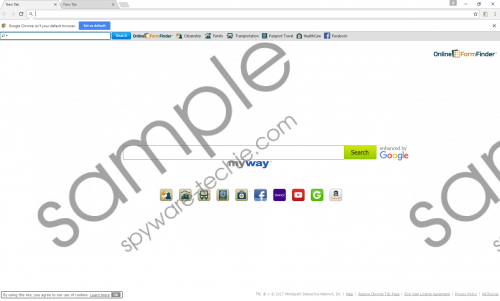 OnlineFormFinder Toolbar screenshot
Scroll down for full removal instructions
In fact, all the programs from the Mindspark family have had official homepages, from where you could download these applications directly. Likewise, it is possible to add OnlineFormFinder Toolbar to your browser via onlineformfinder.com. However, what are the chances that users would come across this website on their own? The service offered by this application is so specific that unless you google for this application directly, it might be hard to find this website. Previously, we could apply the same to any other toolbar from this group, be it MyScrapNook Toolbar, MyTransitGuide Toolbar, TotalRecipeSearch Toolbar, or any other.
So what should this application do once it is on your computer? Technically, it should come with embedded links that can redirect you to a third-party website. This website contains forms that should help you fill out various forms online. The website in question is getformsonline.com, and it is rather peculiar as to why one should use a third-party application to reach this website instead of just visiting it directly. And since OnlineFormFinder Toolbar does not provide us with any other site where you could find online forms, the question is whether the program is really as useful as it claims to be.
Not to mention that by modifying your browser's settings the application can clearly start monitoring your online activity for advertising purposes. So, you should not be surprised to see an increasing number of commercial adverts when your browser when you surf the web. What's more, these ads may be related to your most recent web searches, thus increasing the possibility that you may click on them. Everything is done in order to get your clicks because that is how potentially unwanted programs, adware apps, and other shady freeware programs make money.
While this is not something illegal, you should not become a mule for these programs. Also, if you did not intend to have OnlineFormFinder Toolbar on-board, there is no need to keep it. Simply remove the application manually, and then scan your computer with a licensed security tool. After all, there is a good chance that this PUP came bundled with other unfamiliar and unwanted applications, so you need to take care of them all.
Should you have more questions about your computer's security or how to protect your system from malware, please feel free to leave us a comment. Our team is always ready to assist you.
How to Delete OnlineFormFinder Toolbar
Internet Explorer
Press Win+R and the Run prompt will open.
Type Control panel into the Open box and click OK.
Navigate to Uninstall a program (For Windows XP, Add or Remove programs).
Uninstall OnlineFormFinderTooltab Uninstall Internet Explorer.
Chrome
Press Win+R and enter %LocalAppData%. Click OK.
Open Google\Chrome\User Data\[PROFILE]\Extensions.
Delete the gmfijjnfjoeafkhalnojfbaekemcof folder.
Go to Google\Chrome\User Data\[PROFILE]\Local Extension Settings.
Remove the gmfijjnfjoeafkhalnojfbaekemcof folder.
Navigate to Google\Chrome\User Data\[PROFILE]\Sync Extension Settings.
Delete the gmfijjnfjoeafkhalnojfbaekemcof folder.
Firefox
Press Win+R and enter %AppData%. Press OK.
Go to Mozilla\Firefox\Profiles\[PROFILE]\extensions.
Remove the _joMembers_@www.onlineformfinder.com file.
In non-techie terms:
OnlineFormFinder Toolbar will not look like an extremely dangerous computer threat because it is not your average computer virus. It is simply an unwanted application that probably entered your PC accidentally. Luckily, you can remove OnlineFormFinder Toolbar without much difficulty. However, please remember to protect your computer from potential threats by investing in a powerful antispyware application.