Do you know what Onion3Cry Ransomware is?
Our Internet security experts have recently tested a program called Onion3Cry Ransomware that is a ransomware-type computer malware. It can infect your PC by stealth and then encrypt your personal files. If it happens to encrypt them, then it will demand that you pay a ransom to get them back. However, you should not do that because the people behind this malware might not send you the decryption application needed to get your files back, so you ought to remove it. It can enter your PC secretly unless you have an anti-malware program. So, if you have come here looking for answers, then please read this whole article.
Onion3Cry Ransomware is a serious computer infection that can cause some major damage to your files. According to our malware testers, it uses the Advanced Encryption Standard (AES) which ensures a strong encryption. The list of encrypted file types includes .wmv .mov .ogg .tmp .xlx .docx .msi .dbx .txt .pst .doc .docx .xls .jpg .pst .pdf .mp4, and many others. This ransomware targets file types that hold, pictures, videos, documents, and other types of information to compel you to pay the ransom. It appends the encrypted files with a ".onion3cry-open-DECRYPTMYFILES" file extension.
Once the encryption has been completed, this ransomware is set to drop a file named ### DECRYPT MY FILES ###.exe It does not lock the screen, and you can close it by clicking the close button on the top-right of the screen. Furthermore, this ransomware creates a Point of Execution (PoE) in the startup folder at %ALLUSERSPROFILE%\Start Menu\Programs\Startup\### DECRYPT MY FILES ###.exe.lnk set to launch the ransom note-containing executable. The note does not reveal any specific information as it says that you need to send the developers an email to "onion33544@india.com" to get further instructions on how to pay the ransom and how much has to be paid. One thing is sure, however, that the cybercriminals want you to pay the ransom in Bitcoins in order to avoid being traced back by the authorities. Still, you should refrain from paying the ransom because there is no telling whether the cybercriminals will send you the promised decryption key.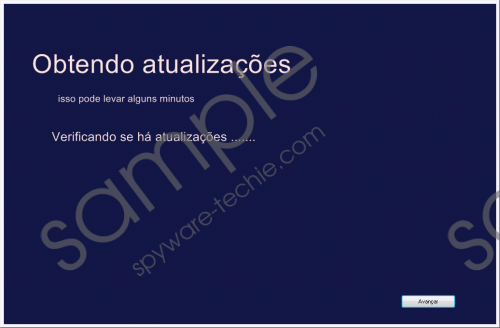 Onion3Cry Ransomware screenshot
Scroll down for full removal instructions
Now that you know how this ransomware works let us discuss how it is distributed. We tried to answer the question how Onion3Cry Ransomware can get onto your computer, but there is not enough concrete information. Researchers have found that this ransomware can infect your PC as a result of installing a fake Windows update. While the fake update is running, the dropper file injects a file named goupdate.exe at %APPDATA%\Local\Gogle\update. This executable is the main file of this ransomware and is launched on system startup as the dropper file also creates a PoE in the startup file at %ALLUSERSPROFILE%\Start Menu\Programs\Startup\goupdate. This file will make this ransomware run on each system startup.
We hope that you found the information provided in this article insightful. As you can see, this ransomware is highly malicious as it can render your most valuable files useless. Therefore, you should remove this ransomware as soon as possible and refrain from paying the ransom because there is no guarantee that the cybercriminals will keep their word. See the guide below on how to delete it manually, but you can also use an antimalware program such as our featured SpyHunter to get rid of it for you.
Removal Guide
Find and delete the dropper file.
Press Ctrl+Shift+Esc keys.
Click the Processes tab.
Find a process called goupdate.exe (name can be random)
Right-click it and click End process.
Close Task Manager.
Press Windows+E keys.
Type %APPDATA%\Local\Gogle\update in the address box and hit Enter.
Find goupdate.exe, right-click it and click Delete.
Then type %ALLUSERSPROFILE%\Start Menu\Programs\Startup and hit Enter.
Find goupdate.exe.lnk and delete it.
Then, type %ALLUSERSPROFILE%\Start Menu\Programs\Startup and hit Enter.
Find ### DECRYPT MY FILES ###.exe.lnk and delete it.
Lastly, navigate to the desktop and delete ### DECRYPT MY FILES ###.exe
Right-click the Recycle Bin and click Empty the Recycle Bin.
In non-techie terms:
Onion3Cry Ransomware is a dangerous computer infection that can infect your PC secretly and encrypt your files. Once the files have been encrypted, it demands that the use pay money to get the encrypted files back. If your PC has become infected with this ransomware, please remove it using the guide below.