Do you know what Onepagesnews.net is?
Onepagesnews.net is a search engine and a news website that might hijack your browser after installing software with bundled malicious installers or after clicking suspicious advertisements. Consequently, the application falls under the classification of browser hijackers. Since the content it may show is displayed in the Russian language, it is most likely that the threat is distributed among users who visit suspicious Russian web pages. If you are having trouble with its deletion, we can help you eliminate this browser hijacker manually if you just follow the steps provided in the removal guide available below the article. What's more, further in the text we will discuss the threat even more, so users who want to learn more about Onepagesnews.net, should read the whole report.
As we already said at the beginning of this article, the browser hijacker could be spread through unreliable Russian web pages where users could encounter malicious pop-up ads or download bundled installers. One way or another, Onepagesnews.net might enter users system unnoticed if he is not attentive enough. Next time, it would be advisable to invest more time in reading terms, each user should be able to review, on the configuration wizard. If you did not know this already, you should be aware that choosing custom or advanced installation settings allows you to see not just more terms and information, but also various choices, such as to deselect bundled applications you do not need. To protect the computer, even more, users could acquire a reputable antimalware tool that could stand guard and notify the user about potential threats.
Once the browser hijacker gets in, the default user's browser may start redirecting him to Onepagesnews.net periodically. Our researchers say the application obtains the ability to act this way after creating scheduled tasks in the following directories %WINDIR%\Tasks and %WINDIR%\System32\Tasks. Such tasks could be titled accordingly to the threat's name, so users should be able to recognize them with no trouble. At this point, we should tell you that this redirection might not only annoy you, but it could also put your system at risk. The search box Onepagesnews.net provides, may redirect the user to a modified Google search engine. This means, there is a possibility the browser hijacker could inject results with third-party advertisements. The reason users should not want to receive such content is because it might advertise potentially dangerous products or services, e.g., programs infected with viruses, Trojans, etc.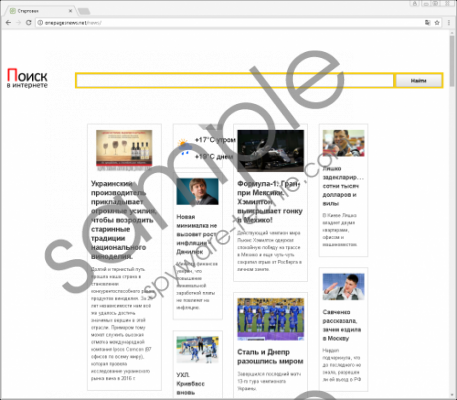 Onepagesnews.net screenshot
Scroll down for full removal instructions
It looks like the browser hijacker might introduce users to dangerous or suspicious content and so if you do not wish to put the system at risk or accidentally reveal your private information, you should stop redirection to Onepagesnews.net at once. Fortunately, there are two ways to deal with this threat. The first option is the manual deletion, and accordingly, it is for more experienced users. If you choose this variant, you could follow the removal guide we placed at the end of this text. The second option might be easier as users would only need to install a reputable antimalware tool, check the system with it and then get rid of the browser hijacker together with other potentially harmful applications just by clicking the removal button.
Erase scheduled tasks related with Onepagesnews.net
Press Win+E.
Navigate to:
%WINDIR%\Tasks
%WINDIR%\System32\Tasks
Locate tasks belonging to the threat.
Right-click these tasks and select Delete.
Exit the Explorer.
Empty your Recycle bin.
Reset the hijacked browser
Internet Explorer
Press Alt+X to select Internet Options.
Select the Advanced tab and pick Reset.
Mark Delete personal settings.
Click Reset and select Close.
Mozilla Firefox
Click the Help icon.
Select Troubleshooting information.
Press Refresh Firefox.
Then click Refresh Firefox again.
Select Finish.
Google Chrome
Press Alt+F.
Choose Settings, and slide down.
Select Advanced and scroll below again.
Mark Reset.
Choose Reset.
In non-techie terms:
Onepagesnews.net is a rather annoying threat that may create scheduled tasks to keep redirecting you to this Russian web page. The problem is the site is also a search engine, and it could load user modified Google search results, in which case there is a possibility there might be suspicious advertisements among the results. Our researchers warn users some of the ads might be potentially dangerous as they may come from unreliable or even malicious websites. Therefore, we would advise users not to risk it and stop the redirection to this questionable web page as soon as possible. To do so easier we offer a removal guide you can find above this paragraph. You could use an antimalware tool too; all you have to do is pick a reputable one.