Do you know what OneAppPerDay is?
OneAppPerDay is an adware application that usually collects data on your web browsing habits and then displays commercial advertisements. Most of the time, users do not even realize they have this application on their computers. OneAppPerDay is not a malicious computer infection, but you should not allow it to remain on your system. It is in your best interests to remove OneAppPerDay from the system right now. If you keep adware on your computer, you can be sure that sooner or later you will be exposed to unreliable content, and you certainly cannot afford that.
Our research team says that OneAppPerDay is another variation of the OneSoftPerDay and MyBestOffersToday adware applications. Technically, these programs are supposed to offer you freeware apps on a daily basis. Just like its predecessors, OneAppPerDay says it can provide you with the latest freeware applications that should improve your web browsing experience or simply make your life more entertaining. Although the program's intentions are genuine, we cannot trust it fully. There is a reason why users are strongly advised to delete OneAppPerDay from their computers. After all, it is an adware application, and adware apps are highly vulnerable to third-party exploitation.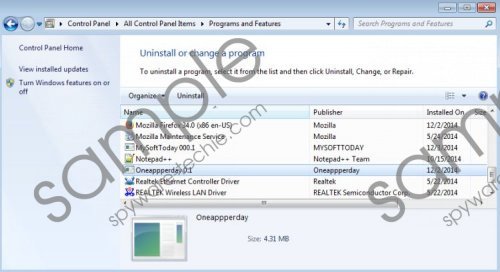 OneAppPerDay screenshot
Scroll down for full removal instructions
The main website for OneAppPerDay is located at oneappperday.com. Unlike most of the adware applications that have dysfunctional websites, OneAppPerDay's homepage works just fine, and it is possible to download the application from there, even though direct adware distribution is not as common as one would think. More often than not, OneAppPerDay arrives bundled with other freeware and adware applications. For example, our researchers have found that it comes with the isearch.omiga-plus.com browser hijacker, Snap.do, BoBrowser, and Couponarific adware, and others. Hence, if you did not plan to have OneAppPerDay on your computer, but the program is there, check the list of installed programs via Control panel. Chances are you have a lot more unwanted apps on your PC.
This program's EULA states that OneAppPerDay displays commercial ads and collects your web browsing information. It is not surprising because all adware applications do that, and this is exactly why you should delete OneAppPerDay from your system. Although the program cannot infect you with malware on its own, it could be easily misused by malicious third parties.
Your computer security should be your utmost priority. Follow the instructions below and uninstall OneAppPerDay from your system. After manual removal, scan your computer with a reliable antispyware application. You need to be sure that all of the potential threats have been removed from your system for good.
How to uninstall OneAppPerDay
Windows 8
Drag the mouse cursor to the bottom right of your screen.
Click Settings on the Charm bar and go to Control Panel.
Select Uninstall a program and remove OneAppPerDay.
Windows Vista & Windows 7
Click the Start menu and go to Control panel.
Open Uninstall a program and remove OneAppPerDay.
Windows XP
Open the Start menu and navigate to Control panel.
Double-click Add or remove programs and uninstall OneAppPerDay.
In non-techie terms:
OneAppPerDay is a potentially unwanted program that does not offer anything useful. The application might be exploited by cyber criminals as a malware distribution tool. You need to avoid any potential computer security risks by removing OneAppPerDay from your PC right now.