Do you know what One10 PC Cleaner is?
One10 PC Cleaner (also known as One10_PC_Cleaner) looks like a trustworthy PC optimization tool at first sight. It even claims that it can "quickly remove windows junk files, program and browsing clutters while refreshing your registry and deleting massive disk space hogs." As this program promises to act in a beneficial way, many users download and install it on their systems. Unfortunately, the majority of them regret doing that. If you do not like how One10 PC Cleaner acts too, you should remove it as soon as possible. It has been observed that its uninstaller in Control Panel does not work properly, which means that you might also need to remove its junk files after you remove this program. You will find instructions prepared by the team of specialists at spyware-techie.com – they will help you to delete this software. It would be best that you read through this article before you go for the removal of One10 PC Cleaner.
Users cannot even believe that One10 PC Cleaner is a suspicious application because it will really scan the system and then will provide the total number of items that supposedly have to be optimized and/or cleaned. Unfortunately, the application will only delete files from the %Temp% folder if you click on the Clean button, which is far from optimizing the system's performance. If you click on the Antimalware tab with an intention to scan your system against malicious software, you will notice that you have to buy it. In other words, you will be asked to acquire the license of this software. You are the one who can decide whether or not to do that; however, in our opinion, there are plenty of other much more trustworthy applications available for download on the web.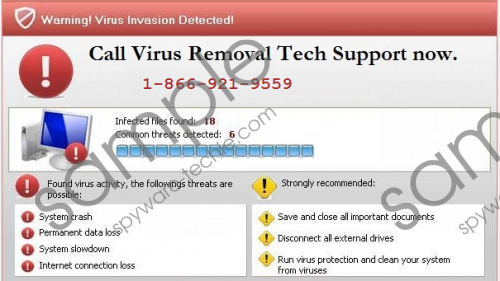 One10 PC Cleaner screenshot
Scroll down for full removal instructions
The free version of One10 PC Cleaner will only delete %Temp% files because it seeks to convince you to invest in it. In addition, you will also see various annoying pop-ups on your screen. They promote one and only telephone number 1-866-921-9559. In fact, the owner of One10 PC Cleaner seeks to scare users into dialing it by showing such fake messages:
Warning! Virus Invasion Detected!

Alert: A Browser Hijacker seems to have infected the computer that may pose serious threat to your online activities.

Errors Detected: All Services have been stopped to prevent further damage. You could restart the computer to see if the problem is fixed. However, if the problem persists then you may call on the number mentioned below or may find a solution online. 1-866-921-9559
It is very likely that you will be offered to buy a particular application if you call the provided number. In addition, you might also provide personal information, and it might be sold for third parties and used for bad purposes.
Research carried out by our team of specialists has also revealed that One10 PC Cleaner will put values One10_PC_Cleaner, Winoneexe, Winsome, and Mspan to HKEY_CURRENT_USER\Software\Microsoft\Windows\CurrentVersion\Run in order to start working the moment Windows OS boots up. In fact, this also means that this application will still perform activities even though you remove it from your system. It has also been revealed that this potentially unwanted program is capable of connecting to the Internet without permission. In most cases, it connects to the 104.237.195.181 IP address. According to specialists, it gets particular information from this database.
We have not managed to find out the official website of One10 PC Cleaner, so it is very likely that it slithers onto computers in software bundles most of the time. Unfortunately, this also means that other undesirable programs might have entered your system too. Most probably, these programs are various browser hijackers, ad-supported programs, and other potentially unwanted programs. It is a difficult job to prevent untrustworthy software from entering systems. Therefore, we suggest that you acquire, install, and keep a trustworthy antimalware tool enabled. In addition, our security experts also suggest staying away from suspicious third-party web pages that promote freeware and shareware because they often promote malicious software.
You will see an uninstall of One10 PC Cleaner in Control Panel; however, it seems that some of the files will stay after the removal process. Unfortunately, we do not know exactly which of these files will be left because it depends on the situation. If you wish to remove this program fully, we suggest removing One10 PC Cleaner manually or scanning the system with an automatic malware remover, such as SpyHunter. It will remove all the untrustworthy programs and files from the system in the blink of an eye.
Delete One10 PC Cleaner
Open the Windows Explorer.
Type %LOCALAPPDATA% in the address bar and delete winone, One10_PC_Cleaner, and One10_PC_CleanerUn folders.
Type %UserProfile%\Local Settings\Application Data in the address bar and tap Enter.
Locate and remove winone, One10_PC_Cleaner, and One10_PC_CleanerUn.
Launch RUN (tap the Windows key + R).
Enter regedit and click OK.
Move to HKEY_CURRENT_USER\Software\Microsoft\Windows\CurrentVersion\Run.
Locate mspan, winsome, Winoneexe, and One10_PC_Cleaner Values.
Remove them one after the other.
Go to HKEY_CURRENT_USER\Software\Microsoft\Windows\CurrentVersion\Uninstall\One10_PC_Cleaner.
Right-click on this key and select Delete.
In non-techie terms:
There is a slight possibility that other untrustworthy programs exist on your system too. Unfortunately, they will not disappear anywhere if you only remove One10 PC Cleaner. Therefore, we suggest that you scan your computer with a diagnostic scanner after you erase this PUP. It will show you whether or not other threats are installed on the system. The diagnostic software can be downloaded from our web page.