Do you know what One Daily Video is?
Even though most computer users do not mind One Daily Video presenting a different video every day, there is no doubt that this program is NOT beneficial. On the contrary, our research team indicates that this program can be identified as a security threat that should be removed from your operating system as soon as possible. If you do not remove One Daily Video, it is possible that you will encounter malware installers and unreliable links. We are sure that this is what you want to avoid, and we can teach you how. We recommend reading this report regardless of your attitude towards One Daily Video, as you might learn new things and change your opinions.
Since One Daily Video does not have an official download page, Daily Soft (or My Daily Soft) uses the services of third-party software distributors to spread this potentially unwanted program (PUP). EpsanDrive, Kikblaster, Adblocker Premium, and similar advertisement-supported programs were found traveling with One Daily Video. Needless to say, we suggest removing this adware from your PC right away because it might expose you to even more unreliable content. Even though, for the most part, One Daily Video shows 1vid.eu videos, it can also offer you to install third-party software. Unfortunately, this software is likely to be malicious, which means that, if you install it, you might have to remove even more undesirable programs from your PC.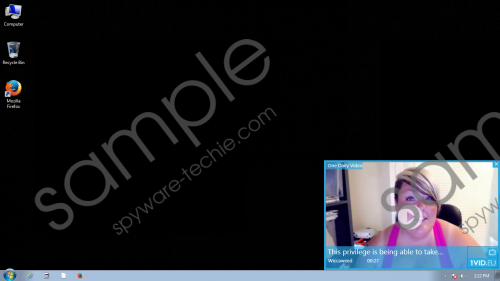 One Daily Video screenshot
Scroll down for full removal instructions
You do not need to install unreliable software to watch videos online. Youtube, Dailymotion, Vimeo, and plenty of other reliable and trustworthy services allow you to watch videos for free, and you are not required to install anything. What is more, unlike One Daily Video, these services will not expose you to malware. Needless to say, you should delete One Daily Video from your operating system, and the sooner you do this, the better. If other threats were not installed with this adware – which is extremely unlikely – you can uninstall this adware using the instructions below, after which you will need to go to %ProgramFiles%. In this directory, find the folder named OneDailyUpdate, right-click it, and select Delete.
Even though it is possible to delete One Daily Video manually, you should not waste time on manual removal if you cannot get rid of other malicious infections installed on your PC. If this is the case, it is best to use automated malware removal software that will scan your operating system, identify security threats, and remove malware. We suggest you install reliable and legitimate software if you want your operating system protected appropriately; otherwise, you might have to remove One Daily Video again in the future.
Delete OneDailyUpdate
Delete from Windows XP:
Move the cursor to the left of the Taskbar, click Start, and open Control Panel.
Double-click Add or Remove Programs and move to Change or Remove Programs.
Select the undesirable program and click the Remove button.
Delete from Windows Vista/Windows 7:
Click the Windows icon located on the left of the Taskbar and select Control Panel.
Go to Uninstall a program (under Programs) and identify the undesirable application.
Right-click the application you wish to remove and choose Uninstall.
Delete from Windows 8/Windows 8.1:
Access the Charm bar in Metro UI (move the cursor to the bottom-right corner).
Click the Search icon, type Uninstall a program to find this utility, and launch it.
Right-click and Uninstall the undesirable application you have decided to remove.
In non-techie terms:
You should remove One Daily Video from your operating system. If you do not, you might be exposed to misleading offers hiding malware installers. The services that this potentially unwanted program offers are not reliable or beneficial, which is why we are sure you want to delete One Daily Video as soon as possible. If you choose the manual removal option, do not forget to remove leftover files in the OneDailyUpdate folder after uninstalling the undesirable application. Also take note of the removal instructions below. These instructions will help those whose operating systems are already infected with paralyzing malware.