Do you know what On Stage Ads is?
If you are looking for an application to improve your online video watching experience, you should be aware that On Stage Ads is not an application that can be trusted entirely and should be removed. Even though it is advertised as a tool that could help you with that task, you must know that it is a hoax marketing strategy used to trick unsuspecting Internet users into downloading and installing this adware program. This is quite an effective strategy, since our reports show that many users have their operating system infected with this intrusive adware program. On Stage Ads in reality does not perform all that well, because it is only capable of making your web browsing experience extremely annoying and frustrating. To regain the standard functionality of your web browser, please use the removal guide that we provide below.
Our malware researchers have found that On Stage Ads is very similar to adware programs such as Record Page, Glass Bottle, Strong Signal, and many others. Thus, the functionality of On Stage Ads is naturally very similar to its counterparts. As soon as this adware program enters your operating system, you will almost instantly see tons of third-party commercial ads and annoying pop-ups within your web browser. This will make your web browser virtually unusable since you will need to close all of those ads and pop-ups every single time you decide to browse the web. It is also important to note that all major browsers, such as Mozilla Firefox, Google Chrome, and Internet Explorer, are all affected by On Stage Ads, meaning that no user can feel entirely safe. There is no other way to stop this invasive activity than by conducting a complete removal of On Stage Ads. If you fail to do so, the unwanted third-party content will continue to annoy you. Do not hesitate to use the removal guide below and delete On Stage Ads in no time.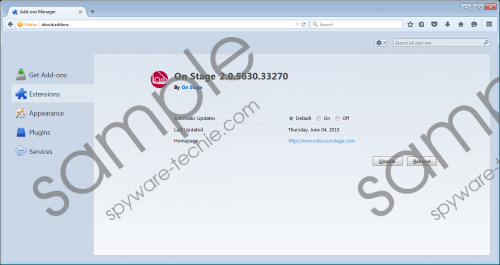 On Stage Ads screenshot
Scroll down for full removal instructions
While annoyance caused by On Stage Ads is the prominent feature of this adware, there is something much worse about it. During our research it has been found that some ads provided by this adware could be implemented with redirect links, meaning that by clicking on a simple ad you might be taken to a website that is suspicious, to say the least. You could land on a site that runs an arbitrary code execution exploit. This exploit is extremely dangerous, since landing on a website that runs it is more than enough to get your operating system infected with some unknown malware. Your system could end up infected with Trojans, rootkits, or keyloggers. Running On Stage Ads on your PC could mean that you might be facing devastating outcomes, and this is the reason you are advised not to delay the removal procedure.
While the manual removal stops the annoying and potentially malicious activity, you should know that in some cases leftover files and registry entries of On Stage Ads could still be active. This is also a dangerous case because sometimes those leftovers could be used to silently restore On Stage Ads. To avoid such a situation, make sure to conduct an in-depth analysis of your PC for potential leftovers of this adware.
How to delete On Stage Ads from your computer
Delete On Stage Ads from Windows Vista and Windows 7
Click the Windows button.

Select Control Panel.
Click Uninstall a program.
Select On Stage.
Click Uninstall.
Delete On Stage Ads from Windows XP
Click Start and go to Control Panel.
Click Add or Remove Programs.
Select On Stage and click Remove.
Delete On Stage Ads from Windows 8
Move the mouse pointer to the lower-left corner of the desktop.
Right-click and then select Control Panel.
Click Uninstall a program.
Right-click On Stage and click Uninstall.
In non-techie terms:
Since this infection could turn out to be a gateway to other maybe even more severe infections, thus eradicating it is crucial. If you follow the steps below you should have no problem having On Stage Ads removed from your PC as it will delete this intrusive adware in an automatic way.