Do you know what Olcinium Browser is?
Olcinium Browser is a potentially unwanted program that usually gets distributed via unreliable networks. Although this program may not be your worst nightmare, it exhibits some features that should be enough to convince you to remove it. Getting rid of this program would be for the best, especially if you care about your information and your computer's security. However, please remember that it may not be enough just to terminate the program manually. Your safest bet in this situation would be investing in a licensed antispyware application that would guard your computer 24/7.
Truth be told, we have seen similar applications many times before. Olcinium Browser is obviously a browser that is based on the Chromium engine. That is why it looks legitimate, and some people even think it is a complementary part of the Google Chrome browser. Unfortunately, the program has nothing to do with the popular browser, and it only hopes to trick the unsuspecting users into trusting it based on the likeness. Rather than being part of the Google family, Olcinium Browser has been developed by Clara-Labs, and we can see it clearly because its files have been signed by CLARALABSOFTWARE, although it does not help us much in determining where the applications comes from exactly.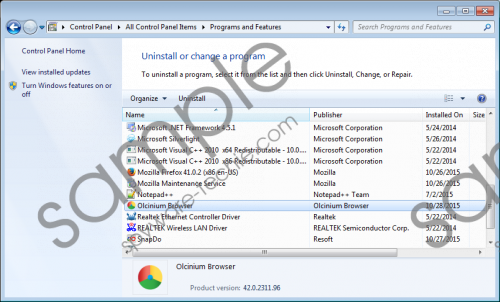 Olcinium Browser screenshot
Scroll down for full removal instructions
The point is that Olcinium Browser does not have an official homepage. Therefore, users cannot download the application directly, and it leads to an assumption that it usually spreads in software bundles. If that is really the case, then you should seriously consider scanning your PC with a powerful antispyware tool. We are urging you to do so because practice shows that the likes of Olcinium Browser seldom travel on its own. In other words, this unwanted application might be just one of the many potential threats running on your PC.
If you want to avoid installing Olcinium Browser, freeware, and adware, you should be really cautious when you download various programs from file-sharing websites. In fact, be careful even when you OPEN a particular p2p website because sometimes clicking on the wrong button initiates freeware and adware downloads. Before you know it, your computer will be full of annoying applications, some of which could be prove to be quite dangerous. It is in your best interest you delete Olcinium Browser and all the other unwanted programs, because you must protect your PC from harm.
It goes without saying that you should not utilize this browser. If you were to do so, you have to understand that all of your online activity would be monitored. What's more, you would experience constant redirections. For instance, your web searches would be rerouted via intent.clara-lab.com to Google, thus allowing the people behind this program gain the upper hand in collecting your browsing history.
Most of the time, Olcinium Browser is there just to generate financial profit by redirecting you to affiliated websites or displaying commercial advertisements. But our greatest concern is that sometimes such programs could be easily exploited by cyber criminals. Then you would not know what hit you before it is too late. Thus, the sooner you remove Olcinium Browser, the better. Uninstall the program right now and then scan your PC with the SpyHunter free scanner to be sure that your system is safe.
How to Delete Olcinium Browser
Windows 10 & Windows 8.1
Right-click the Windows icon on the bottom left of your taskbar.
When the drop-down menu appears, click Control Panel.
Open Uninstall a program and remove Olcinium Browser.
Windows Vista & Windows 7
Open the Start menu and click Control Panel.
Go to Uninstall a program and remove Olcinium Browser.
Windows XP
Click the Start button and navigate to Control Panel.
Select Add or remove programs and uninstall Olcinium Browser.
In-non techie terms:
Olcinium Browser is a browser that users often do not install on their computers willingly. It usually comes in a bundle with a number of other applications. It is strongly recommended that you remove this application from your PC right now, as there some behavioral patterns associated with the program that might be quite dangerous. If you require an alternative software removal method, please check out the secondary set of instructions below this description.