Do you know what OhMyTabs is?
There is no doubt that OhMyTabs is an advertising-supported program, and this becomes clear just by reviewing the information on the representative website, ohmytabs.com. The information on this site discloses that the program is supported via third-party advertising, and this is what keeps its services free. Well, the services of this suspicious program include comparing prices and showcasing offers, coupons, and shopping deals that are mostly likely served via adware servers anyway. In that sense, this adware is very similar to Adpeak adware (e.g., Savings Bull, Scorpion Saver), which we advise removing. A different version of this adware, Oh My Coupons, also requires elimination. If you do not understand why we recommend deleting OhMyTabs, you should continue reading. If you simply cannot way to get rid of this undesirable program, check the instructions below.
The official download page mentioned above does not provide an installer, which means that an official installer does not exist. Unfortunately, computer users keep downloading this threat from third-party software distributors who spread it packaged with third-party software. It is possible that you will acquire this program along with harmless PUPs, but you might also encounter it along with dangerous threats. Notably, the blame is not on the creator of this adware but the unreliable distributors and you for trusting them. Once installed, OhMyTabs is most likely to be operated via a process running on your Task Manager. If you kill this process, the adware will revive every time, and you need to erase files to disable this threat completely. So, why do we advise removing this adware? Every single ad it shows opens a security backdoor. Sure, the links hidden behind these ads could lead to harmless websites; however, they could also lead to corrupted sites and expose you to misleading content.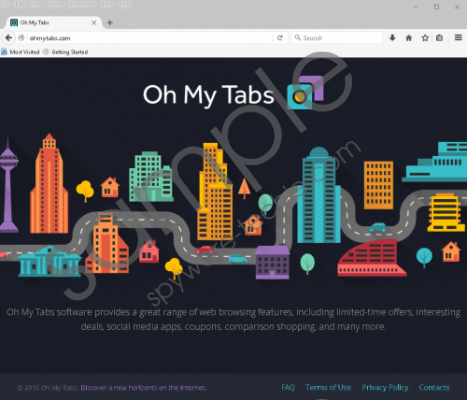 OhMyTabs screenshot
Scroll down for full removal instructions
It is most likely that OhMyTabs will inject ads based on your browsing behavior. You are unlikely to interact with ads that cannot offer you anything interesting, and your browsing history can reveal your interests and desires. Tracking cookies and similar data-tracking tools are employed for the collection of this data, and third-party advertisers working with this adware can employ their own cookies to spy on you. The Privacy Policy representing this adware explains what information its cookies can collect; however, the cookies of third parties follow different policies, and because we do not know which parties and which cookies could be involved, they are considered unreliable. For all you know, they could even record personal, sensitive information, and, if this information is leaked to unreliable parties, you could become a victim of scams. Overall, OhMyTabs opens up security backdoors, and this is why you should erase it from your computer without further delay. After all, it does not even provide you with beneficial or reliable services.
Due to the fact that this adware employs data-tracking technologies, we advise cleaning your browsers. You need to erase browsing data (including cookies) to ensure that the suspicious ad-supported software cannot continue spying on you. Once you remove OhMyTabs components, you should clean your browsers, and the instructions below show how to do that on most popular browsers, Chrome, Internet Explorer, and Firefox. After you are done with the guides below, please scan your PC with a malware scanner. This tool is often free of charge, and it can help you figure out if your operating system is clean. If it is, go ahead and implement security software. If it is not, eliminate the existing threats first.
How to delete OhMyTabs
Tap Win+E on your keyboard to launch Explorer.
Delete the ohmytabs folder in these directories (enter them into the address bar of the Explorer):

%APPDATA%
%PROGRAMFILES%
%PROGRAMFILES(x86)%
How to clear browsing data
Mozilla Firefox
Open Firefox and tap Ctrl+Shift+Del keys.
Select the time range.
Expand the Details menu.
Choose the data you want to clear.
Click Clear Now.
Restart the browser.
Google Chrome
Open Chrome and tap Ctrl+Shift+Del keys.
In the chrome://settings/clearBrowserData menu choose the time range.
Mark the boxes that representing the data you want to clear.
Click Clear browsing data.
Restart the browser.
Internet Explorer
Open IE and tap Ctrl+Shift+Del keys.
In the Delete Browsing History menu check the boxes of data you want to clear.
Click the Delete button.
Restart the browser.
In non-techie terms:
If you have downloaded OhMyTabs thinking it will provide you with beneficial services, you must be disappointed. Although this program can show the coupons and deals it promises, they might be worthless. On top of that, this program works with third-party advertisers who inject advertisements as well. These advertisers are undisclosed, which makes them extremely mysterious. Our research has revealed that they can spy on you using their own data-tracking technologies that the adware allows installing. Needless to say, this is suspicious. Unfortunately, the parties working with this adware could be unreliable, and their intentions could be malicious. Due to this and the fact that it opens security backdoors, we advise removing OhMyTabs from your PC as soon as possible. Also, do not forget to clean your browsing data to erase all traces of this undesirable program.