Do you know what Offers Chasers is?
Offers Chasers is an extension that, according to our research team, was designed for Google Chrome users. The extension is represented via the Chrome web store, but it is represented by a different name, "New Tab." Since the official downloader at offerschasers.com does not work right now, users are likely to acquire it from chrome.google.com/webstore/detail/new-tab/djejecgmagpebkjpmagmddclknbkpcjm. This installer informs that the extension can record the information you browse, as well as change certain content on the websites you visit, which indicates that it can showcase ads or coupons regardless of the site you visit. Also, the extension takes over the New Tab, and it can modify your browsing history, which is strange. Due to these reasons, our research team classifies it as a potentially unwanted program, or PUP. Are you interested in removing Offers Chasers? That might be the best idea, and we can show you how to delete this PUP manually. Continue reading to learn about this process.
When Offers Chasers is installed onto Google Chrome, it is represented via the New Tab page. The URL you are shown in the address bar is http://offerschasers.com/ext/index.html. The interface of this page is not very odd or unique. In the middle, you are shown a search field, and below it, you can find easy-access links to websites promoting Shoppong Day, AliExpress, Expedia, TripAdvisor, Amazon, and Booking services. There is also a button on the top-right corner called "Coupons." If you click it, you are introduced to additional links routing to coupons.com, savings.com, couponcabin.com, couponmom.com, valpak.com, and smartsource.com websites. At the bottom of the page, you are shown a list of random coupons with attractive discounts. You cannot remove these coupons, but you can choose to hide them or even "suspend" them for a certain period. None of this is strange, considering that Offers Chasers is promoted as a tool that can provide you with "top shopping and coupon deals." Then why are we discussing the removal of this PUP? In fact, there are several reasons for that.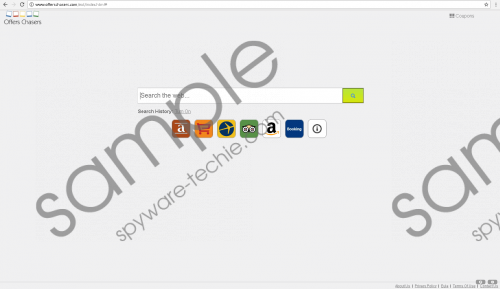 Offers Chasers screenshot
Scroll down for full removal instructions
Most users consider Google Chrome a useful search tool, which might be the reason why Offers Chasers uses it to showcase search results. If you enter keywords into the offerschasers.com/ext/index.html search field, you will not be shown coupons exclusively, which is what you might expect from this search tool. While there is nothing wrong with Google Search – the results are not even modified to include ads – the search tool might be viewed as useless. Also, since you cannot look up more specific coupons, you rely on Offers Chasers completely to show you whatever comes along, and that is not a very useful service. The other reason users decide to delete this PUP is because it can collect information, which, as the Privacy Policy informs, it can do using web cookies and beacons. As we already discussed, the PUP also claims it can read and modify browsing data too, which, of course, makes this add-on suspicious and unpredictable. Overall, if you are not comfortable with a piece of software, you should consider removing it.
Do you want to delete Offers Chasers? If you do, we have good news for you, you can do so manually, and we have even created a simple guide that will help you do that as quickly as possible. Needless to say, this guide only shows how to eliminate this particular potentially unwanted program. If other PUPs or even malicious infections have slithered in, you need to think about them too. Maybe it is time you installed anti-malware software that could automatically erase threats and keep them away in the future? Whatever you decide to do, always keep your virtual security in mind.
Remove Offers Chasers
Launch your Google Chrome web browser.
Simultaneously tap Alt+F keys on the keyboard.
In the menu click More tools to expand a menu and then click Extensions.
Click the recycle bin next to the undesirable add-on (should be named New Tab) and then select Remove.
Simultaneously tap Ctrl+Shift+Delete to access the Clear browsing data menu.
Select the time range and boxes and then click CLEAR BROWSING DATA.
In non-techie terms:
Offers Chasers is classified as a potentially unwanted program because it takes over the New Tab page and showcases various coupons that may or may not be beneficial and trustworthy. The PUP can spy on users and even modify the content they see, as well as the browsing history. On top of that, it promotes a search tool that does not seem to have anything to do with the main service. If you have decided that you want to delete Offers Chasers from your Google Chrome web browser, we suggest doing so via the comments section below. To keep the system free from potentially unwanted programs and malicious software in the future, we recommend installing legitimate anti-malware software, which, of course, can automatically erase those threats and PUPs that already exist on your PC.