Do you know what Obrona VPN Deals is?
Obrona VPN is a program that offers "invisibility, security and freedom online." Users who do not want to leave any traces online would probably be intrigued by this program because Obrona VPN Deals is supposed to cover up your tracks, protect your connection and give you "free access to blocked sites." On the other hand, there is a reason security experts recommend removing Obrona VPN Deals from the system. The free version of the program displays a lot of commercial advertisements, and that might be related to particular security threats.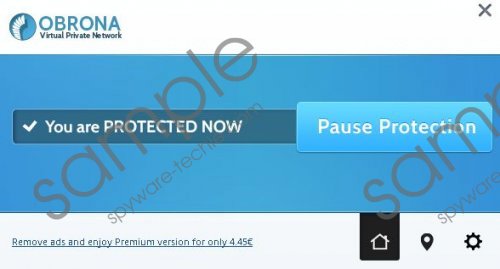 Obrona VPN Deals screenshot
Scroll down for full removal instructions
It is possible to download the program at vpn.obrona.org. There are usually two versions available for download at the official website. One version is free, and it supports commercial ads. The other version requires subscription. It is ad-free, and users are supposed to pay 4.45 euro a month for Obrona VPN services. Needless to say, that more often than not computer users tend to opt out for the free version because they are not too eager to pay. However, that is not the best idea since the free version is the one that might cause some trouble.
Our security research team believes that Obrona VPN may help you hide your identity online and access websites that are otherwise blocked for your IP. On the other hand, using the free version brings forth a range of other potential problems. For example, you will often see commercial banner and pop-up ads whenever you access supported websites. Also, with this application installed on your computer, you may experience random redirections to unfamiliar websites, especially as Obrona VPN Deals has an auto-run, and it means that whenever you turn on your computer, this program starts automatically.
We are not trying to say that Obrona VPN Deals is a dangerous infection. It is clear that this program comes forth with good intentions, but any program that is related to commercial online advertising should not be taken lightly. Obrona VPN Deals obviously relies on third party advertising networks for the ads content, and we can never be sure that the links embedded in the ads are 100% safe. Consequently, if you click an ad that contains a link to corrupted website, you might end up downloading more adware on your computer. In the worst case scenario, you could get infected with malware as well.
If it was not your intention to have Obrona VPN Deals on your PC, you can simply uninstall the application via Control panel. However, when you remove Obrona VPN, take note that you have to UNCHECK two options on the uninstall wizard, otherwise you will install Security & Shopping Advisor and MyPCBackup applications onto your PC.
How to remove Obrona VPN Deals
Windows 8
Slide mouse cursor to the bottom right of the screen.
Click Settings on Charm bar and go to Control panel.
Select Uninstall a program and remove ObronaVPN.
Windows Vista & Windows 7
Press Windows key and go to Control Panel.
Open Uninstall a program and remove ObronaVPN.
Windows XP
Open Start menu and navigate to Control Panel.
Access Add or remove programs and uninstall ObronaVPN.
After manual removal, please be sure to scan the PC with a licensed antispyware application in search for more unwanted applications. Unwanted programs often arrive in groups, so you need to take your system's security seriously.
In non-techie terms:
Obrona VPN Deals appear on your browser when you have Obrona VPN application installed on your PC. It is not a computer infection, but you are urged to remove it if you want to ensure your system's stability. For an alternative removal method, please check out the secondary set of instructions below this article.