Do you know what Nyan Cat Screenlocker is?
While a devious program known as Nyan Cat Screenlocker could resemble the functionality of a ransomware program, you must know that, fortunately it not that at all. Users that already have it active on their PC will be relieved to hear this as it does not act in a malicious way; meaning that it does not encrypt your data or ask for a huge ransom. All that this invasive application does is lock your screen. While such functionality beats the dangers of having a ransomware program, it still causes major inconveniences. To understand how this program functions, where it comes from, and how you can improve your virtual security, make sure to read this entire article. Also, malware experts at Spyware-Techie.com provide a detailed removal guide that will help you delete Nyan Cat Screenlocker without encountering any major problems.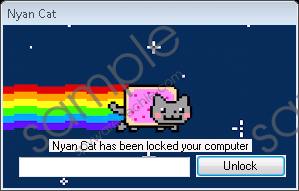 Nyan Cat Screenlocker screenshot
Scroll down for full removal instructions
As soon as Nyan Cat Screenlocker gains full access to your personal computer and is launched your desktop will be locked immediately. This happens because the intrusive application kills the expolorer.exe process and then starts a process of its own. The new image instead of your desktop is a warning message with a famous internet image of Nyan Cat (hence the name of this devious program). Unlike ransomware programs which are infamous for such activity, you are not asked for a ransom to regain access to your operating system. Instead, you are provided a text box and a button entitled Unlock. Trying to simply click the button results in a message informing you that you have entered an invalid password. Unfortunately, there are no instructions how you can obtain the required password. In it essence this devious piece of software will render your PC unusable; you will have no access to your data or applications for as long as it is up and fully running on your personal computer. Due to such overall functionality and its poor popularity our researchers to assume that this application might be a beta version of some in-development ransomware. We highly advise you not to take any risks with Nyan Cat Screenlocker and conduct its complete removal right away as there is no way of telling if it could start acting in a much more dangerous manner.
Nyan Cat Screenlocker is not an exception as it is distributed in dubious ways that other suspicious programs are. Therefore, you must take steps to improve your virtual security, which will allow you to run a computer that is safe and secure at all times. It is paramount to refrain yourself from unknown or otherwise suspicious websites. Often unauthorized third-party download sites host software bundles, which are infamous for being filled with all sort of unwanted applications. Authorized vendors' websites are the only place that you should obtain your programs. This way you will avoid any intrusive setup files. We also highly advise you to pay your utmost attention to every single installation procedure. Too often users infected their operating system with some undesirable program because they rush the whole process. By taking your time and reading everything that is presented to you on the screen, you might come across a chance to cancel the installation of some undesirable program by simply unmarking a single box. Finally, you should know that no system is fully secure without a reliable antimalware tool. Do not waste any time and install such a tool if you do not have one already since it is capable of detecting and immediately deleting any suspicious program in an automated manner. While these precautionary steps seem quite straightforward, you should now that by following them your operating system will become virtually unbreakable.
The complete removal of Nyan Cat Screenlocker should not be delayed under any circumstances since that is the only way that you will be able to regain full access to your personal computer. Use the removal guide that we present below, and you will be able to delete everything associated with it. If even after manual removal your system functions in an abnormal way, make sure to check for any potential leftovers liked to Nyan Cat Screenlocker as they might be responsible. If any are found, they must be deleted immediately.
How to remove Nyan Cat Screenlocker from your PC
Tap Ctrl+Alt+Delete on your keyboard and select Task Manager.
In Task Manager select Processes.
Locate the malicious process then select it and click End Task. Keep in mind that its name is randomized.
Close the Task Manager.
Open your File Explorer.
Navigate to C:\Users\[your username]\Downloads.
Right-click the malicious .exe file and then select Delete. The name of this file is also randomized.
Right-click your Recycle Bin and select Empty Recycle Bin.
Reboot your personal computer for changes to take place.
In non techie terms:
Some users might find manual removal and analysis of their PC fairly complicated. If you do not feel comfortable doing all of that, do not worry. You can simply follow the alternative instructions that we provide below to delete Nyan Cat Screenlocker in an automated manner.