Do you know what Number Ascend is?
Developed by SuperWeb LLC, Number Ascend is an adware application that is exclusively designed to promote third-party commercial ads on target browsers. It is crucial that you remove this advertising-supported program from your PC, because it was created by one of the most notorious adware developers in the industry. SuperWeb LLC is infamous for a high number of completely identical programs that are utilized to send advertising content to web browsers. Everything, from the distribution method these applications employ to intrusive behavior they display, indicates that you should delete Number Ascend right now. Be aware that if you fail to terminate this program in time, it will not only bombard your screen with irrelevant commercial material, but also introduce risks to your system's security.
On the official site numberascend.com, Number Ascend promises to improve your web surfing experience by comparing online deals, and thus finding the best prices. As you can see, this program offers only marketing-related features, so if you are not a fan of pop-ups, banners, coupons offers, and other commercial material, you will soon get annoyed by the presence of this program. The only way to terminate this continuous stream of the third-party ads is to remove Number Ascend. Another reason why you should not ignore the existence of this program on your PC is that it might play a role in introducing risks related to your computer's health. Remember: The third-part ads displayed by Number Ascend are NEVER reliable. Clicking one of the corrupted product or service links can easily redirect you to the dangerous sites that host adware or malware content. To prevent these accidents from happening, install a reliable antimalware program that instantly detects all the threats you might come across on the web.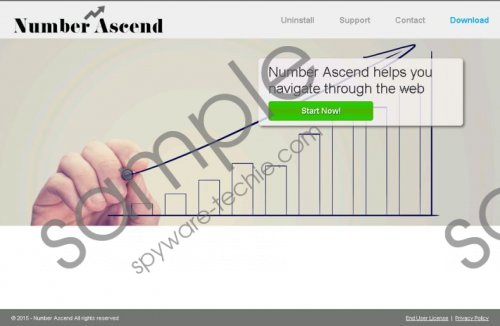 Number Ascend screenshot
Scroll down for full removal instructions
Number Ascend, Magic Ball, Banana Phone are only a few of the Superweb apps you should avoid on the Internet. These programs are generally distributed via software bundles accessible on third-party file sharing sites. If you do not want to drop anything suspicious to your PC, always opt for the advanced installation process where you will have the opportunity to uncheck questionable components. In conclusion, be cautious of all the software you find on the web; better, install a trustworthy antispyware scanner that safeguards your PC from the infections that might try to slither onto your system.
Number Ascend is a completely useless program that you should delete if you want your computer to work in a full capacity. You can remove this program from Control Panel by following our step-by-step instructions below. Still, to make sure your PC completely secured, we always recommend completing the removal process by carrying out a full system scan with professional antimalware software.
Remove Number Ascend from your system
Windows 8 & 8.1
Open the Charm bar at the bottom right corner of your screen and click the Settings icon.
Choose Control Panel.
Find View by and select Small Icons, and then open Programs and Features.
Select the program you wish to remove and click Uninstall/Change.
Windows 7 & Vista
Click the Start button to open the Start menu, and then choose Control Panel.
Find View by, select Small Icons, and then open Programs and Features.
Click the program you want to delete and choose Uninstall/Change.
Windows XP
Click the Start button to open the Start menu, and then go to Control Panel.
Switch to Category View on the left.
Open Add or Remove Programs.
Click the unwanted application and click Remove.
In non-techie terms:
Number Ascent is an advertising-supported program that will bombard your browser with third-party ads. You should remove this app from your PC, because it might redirect you to the third-party pages that contain malware. If you do not want to risk infecting your system with Trojans, ransomware, or other threats, remove Number Ascend with the help of a trusted antispyware program.