Do you know what Nuke Ransomware is?
Do you know what hides in spam emails? Annoying, worthless messages? Yes. Scams? Possibly, yes. What about malware? Nuke Ransomware is one of the many ransomware infections that uses spam emails to expose Windows users to malicious attachments. These spam emails are always attractive, but more vigilant users will be quick to realize that the offers represented are too good to be true and that the senders are fake. Less experienced users might see no harm in opening files attached to strange emails. Even if the file you open looks like a regular DOC/PDF/JPG/etc. file, in reality, it could be a malicious launcher that was designed to execute the ransomware. Once the threat is launched, there is little you can do, especially because the threat is silent. In fact, it is most likely that you will realize that the ransomware has attacked only after it displays a ransom note. Although it might be too late to save your files, you cannot forget to remove Nuke Ransomware.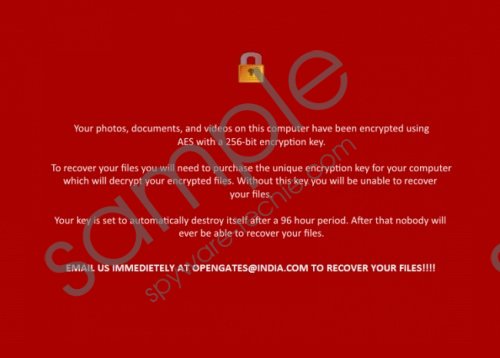 Nuke Ransomware screenshot
Scroll down for full removal instructions
When the malicious Nuke Ransomware is executed, it immediately starts encrypting files. It encrypts all kinds of files evading system files and files that can be replaced, such as web browsers. The targets are encrypted using the AES 256-bit key, after which they are also renamed. The original names are jumbled up to make it difficult for you to identify the files that were corrupted, and the ".0x5bm" extension is attached to every single one of them. An example of a file corrupted by Nuke Ransomware is "amWe+dBbWaEamdea.0x5bm." It is unclear what kind of file this was before the encryption, and this is a trick that the devious creator of the ransomware uses to confuse you. At the time of research, a legitimate file decryptor that would be able to decipher the encryption used by this ransomware did not exist. Although it is unlikely, maybe this tool was created by the time you are reading this. After all, this might be your only chance to get your files back without dealing with cyber criminals.
Once Nuke Ransomware is done with the encryption of your personal files, it creates its own files. One of them is called "desktop_wallpaper.bmp", and you can find it in the Nuclear55 folder under %AppData%. This file represents a ransom note in the red background. According to the message on the wallpaper, you must obtain an "encryption key," which you allegedly can do by emailing at opengates@india.com. It is also suggested that this key will be destroyed 96 hours after you first receive the message. The threat also creates "!!_RECOVERY_instructions_!!.html" and "!!_RECOVERY_instructions_!!.txt" files, both of which are located in %AppData%. These files provide you with more information, and they are meant to convince you that there is no other way to decrypt your files. What these HTML and TXT notes do not say is that a ransom is expected from you. Once you initiate communication, cyber crooks will respond with additional instructions on how to pay the ransom. Whether you consider the sum of money demanded in return of a decryption key big or small, we do not recommend paying it. You know why? Cyber criminals do not need to keep their promise. If they take your money without giving you the decryption key, you cannot do anything about it. Cyber criminals are not held responsible for their actions, and that allows them to do whatever they want.
You do not need a lot of experience in malware removal to successfully delete Nuke Ransomware from your operating system yourself. This threat is operated using one executable file, and it has three additional files that serve as informational tools. The truth is that the developer of the ransomware is not scared about you removing it. What good is it for you to erase this threat, considering that your files will remain encrypted? If you do not pay the ransom, you need to eliminate the infection to stop it from corrupting new files. If you have paid the ransom and you were lucky enough to get your files back, you need to erase the infection for the same reason. Another thing you need to take care of is virtual security. You need to implement reliable security software to ensure that malware cannot attack you and your personal data again. Anti-malware software can simultaneously erase malware and prevent it from attacking again, which is why we advise installing it as soon as you possibly can.
Remove Nuke Ransomware
Right-click and Delete the malicious .exe file (could be on the Desktop or the Downloads folder. If you cannot find it yourself, use a malware scanner).
Launch Explorer by tapping Win+E keys simultaneously.
Type %AppData% into the address bar and tap Enter.
Right-click and Delete these files:

!!_RECOVERY_instructions_!!.txt
!!_RECOVERY_instructions_!!.html

Right-click and Delete the folder named Nuclear55 (it should contain desktop_wallpaper.bmp).
Restart the computer and immediately install and run a legitimate malware scanner.
In non-techie terms:
Nuke Ransomware is an infection, and you cannot waste time once you discover it. Although this infection gives you 4 days to contact them and get the decryption tool, you should not wait that long to make your final decision. This ransomware is vicious, and its developers are unpredictable. Do you want this kind of software active on your PC? Hopefully, your files are backed up or you manage to find a legitimate file decryption tool. Even if you end up communicating with cyber criminals and you receive instructions on how to pay the ransom, think very carefully about what you do. We advise using anti-malware software to eliminate the infection, but you can also use the manual removal guide above.