Do you know what Nuesearch.com is?
Nuesearch.com is yet another browser hijacker that malware experts at Spyware-Techie.com have discovered to be roaming the web recently. The major indication that this browser hijacker is up and fully running on your personal computer is a sudden unauthorized change made to default settings of popular web browsers such as Google Chrome and Mozilla Firefox. If this is the case, you should be aware of the fact that this browser hijacker will ruin your online experience for as long as it is fully active on your computer. On top of that, the devious program could prove to be the main reason your computer could end up filled with other questionable programs. Such invasive and potentially malicious functionality of Nuesearch.com is the main reason we highly advise you to remove it. Do not hesitate and do so as soon as you have found this hijacker active on your PC. Make sure to use the detailed instructions that we provide below as it will allow you to terminate this intrusive application in a quick and easy manner.
As mentioned earlier, the major indication that Nuesearch.com is active on your operating system is a sudden change of your web browser's default settings. The browser hijacker in question alters your default home page without any authorization, which is annoying, to say the least. Some user might think that this particular change does not have any profound effect on their overall online experience. Unfortunately, this is not true since this alteration will modify your whole online experience for the worse. This is so because you will not be able to start your web browsing session on a default home page. Instead, every single time you decide to surf the web, you will be presented with a third-party website that has been appointed by this hijacker as your new default home page. For as long as this browser hijacker is fully running on your computer, you will have no choice but to start your web browsing session on a questionable site whether you like it or not. If you are keen on restoring the default settings of your web browser, you must take immediate measure to conduct its complete removal. Only by deleting Nuesearch.com from your PC will you be able to regain the default settings of your web browser.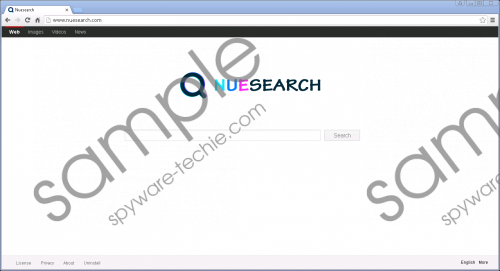 Nuesearch.com screenshot
Scroll down for full removal instructions
If annoyance and frustration caused by Nuesearch.com was not enough, you must be aware of the fact that this browser hijacker could also turn out to be the reason your operating system might get exposed to potentially harmful web content. This could happen if you chose to use the search box within the newly appointed home page. We highly advise you not to use the dubious search provider for any of your online queries as you could come across results embedded with redirect links. This means that by clicking on some results provided by this search engine, you could be taken to third-party websites, which could turn out to be potentially dangerous. Upon further investigation, our research team has discovered that in some instances you could end up on sites that might be hosting malicious software and sometimes just entering such a website could prove to be more than enough to get your computer infected with some other questionable programs. If you wish to keep your computer safe and secure at all times, you must not waste any time and conduct a thorough removal of Nuesearch.com as soon as it is detected up and running on your PC; otherwise, you default web browser settings will remain modified and your whole operating system will be at risk of being infected with some other potentially malicious program.
The complete removal of Nuesearch.com should not be delayed. Make sure to follow the instructions that we present below.
The complete removal of Nuesearch.com should be of your utmost importance. It is important to highlight the fact that just a few leftover files related to this hijacker could still be used in an intrusive way. In some case traces of it could be more than enough to trigger a silent restoration procedure. Thus, it is crucial to pay your utmost attention while following the instructions that we present below. Once you are done with the manual removal, we highly recommend executing an in-depth analysis of your operating system for potential leftovers associated with Nuesearch.com. This way you will be sure that everything associated with it has been removed from your computer once and for all.
How to remove Nuesearch.com from your computer
Google Chrome
Start your web browser.
Click the Chrome Menu button select Settings.
Click Extensions.
Click the Trash can icon next to the unwanted extension.
Select Remove to confirm your choice.
Mozilla Firefox
Open your web browser.
Click the Menu button and select Add-ons.
Select Extensions.
Click the Remove button next to the suspicious extension to remove it.
How to reset your Target Line
Right-click your browser's shortcut and select Properties.
From the Target line section remove everything that comes after .exe".
Click Apply and then OK.
In non-techie terms:
In some cases, users might not feel entirely comfortable performing the manual removal. If you happen to be one these users, you should not be worried. Our research team has crafted an alternative removal guide that we present below, which will help you delete this browser hijacker in an automatic manner.